Gear Review: Fire Maple FMC-201 Cookset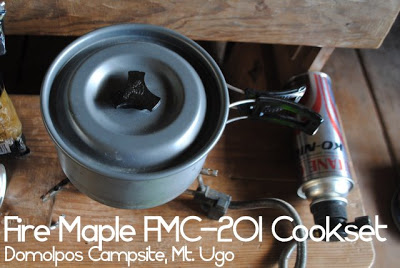 My simple criteria for judging a cookset is fourfold: (1) I can easily hold the handles even while cooking; (2) I can easily clean the cookset i.e. no stains; (3) It's not too heavy; and (4) It is durable. It is this criteria that made me retain my Kovea cookset for three years, until I handed it over to one of my favorite guides in the Visayas.
Of late, I have been using a Fire-Maple FMC-201 Cookset which is distributed by Camp Sandugo. It boasts of an aluminum body, non-stick coating, and weighs only 750 — it's not for ultralight people, but it will do for a 'normal hiker' like me. Moreover, this cookset has two pots and one pan – making it perfect for small group hikes. Finally, the handle is coated with a material that does not heat – an improvement from the metal handles of my old Kovea.
So far, it's been working well – I've used it in several major climbs, including Kibungan and Mt. Ugo in Benguet, as well as Snow Mountain in Taiwan. I don't change my cooking ware too often. For instance, my Kovea stove is still alive and burning after 7 years. So now I am content with this Fire Maple set. At just P1685 pesos, I think it is a worthy purchase. As for durability, time will tell.