Hiking matters #364: Banahaw Traverse Dayhike from Nagcarlan to Dolores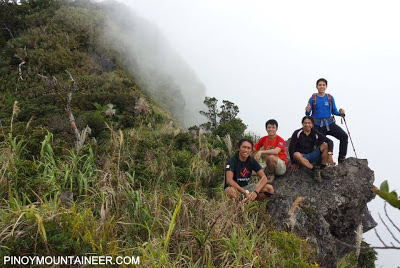 The team (L-R): Koi Grey, Daryl Comagon, Sky Biscocho, and myself
In a DENR-approved climb (Permit 2013-052), Sky Biscocho, the trailblazer himself, led me and my Halcon buddies Koi Grey and Daryl Comagon to a wonderful traverse of Mt. Banahaw, from Brgy. Bucal, Nagcarlan, Laguna to Brgy. Kinabuhayan, Dolores, Quezon in an action-packed dayhike on August 15, 2013. I sought the permission of DENR-PASU for this hike, since Banahaw is one of the destinations I'm writing about in my ongoing book project. Moreover, we were to make an assessment of the Nagcarlan Trail and make a report to the PAMB, just like in 2011 when I last climbed the mountain.
I would never have climbed Banahaw without this!
We headed to Nagcarlan early in the morning. Brgy. Bucal is like the twin sister of Brgy. Kinabuhayan, because they have more or less the same elevation and both of them are nestled between Banahaw and Cristobal! Bucal itself is kinda far from Nagcarlan itself and it was already 0700H when we managed to start our trek of Mt. Banahaw, from 650 MASL.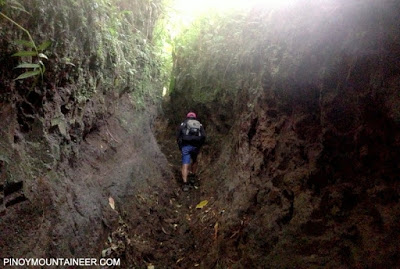 The 'Horse Trail' from the Nagcarlan side
The first part of the trail – for a good hour or so – is the 'Horse Trail', or what Sky dubs the 'Cave Trail' because the trail has gotten so deep and it seems as if you were trekking between columns of soil. It is followed by a long, relatively steep section of forest – all the way to the summit! The entire trail calls for an altitude gain of 1500 meters, from 650 to around 2150m!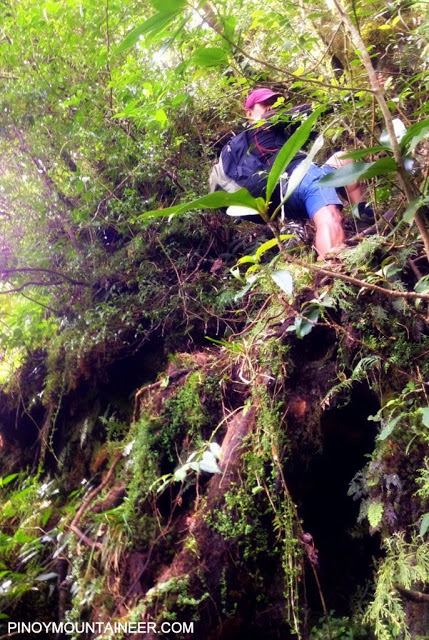 Climbing the 'Wall' of roots, branches, ferns, and moss
Two features of the trail are worth mentioning. The first is the 'Bivoac' campsite at 1800 MASL, which has at least a couple of flat spaces for several tents (but no water source). Then, to make things more exciting, there is a ten-meter 'wall' which requires holding on to roots and branches – this was around 1900 MASL and thus less than an hour from Ikatlong Dungaw.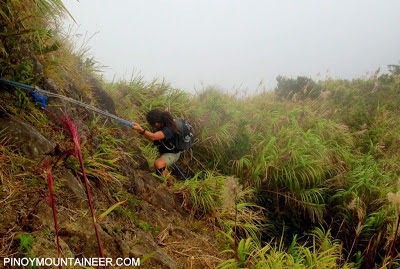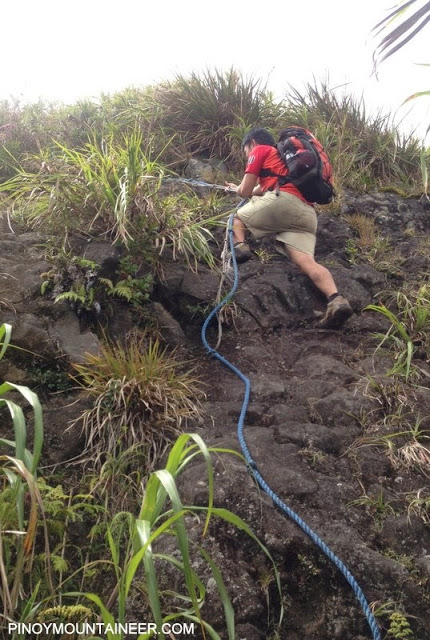 Descending from Ikalwang Dungaw (Durungawan II)
We reached Ikatlong Dungaw at around 1200H, or after 5 hours of trekking. We had lunch there before proceeding to Ikalwang Dungaw and Unang Dungaw – this part of the trail passes through the crater rim as well as the summit (i.e. highest point). There is a roped segment from Ikalwang Dungaw going down. We took another break at Unang Dungaw where there was surprisingly strong 3G signal and thus I was able to post pictures. It is also the most scenic part of the trail!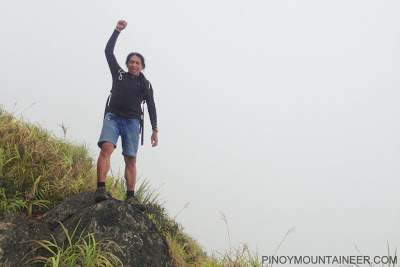 Welcome back, Sky!
From Unang Dungaw, we took the Tatlong Tangke Trail which is very straightforward and easier than the Nagcarlan trail, taking us 3 hours to descend. It was nice to revisit sights like Kapatagan (the campsite; 1700 MASL) and Tatlong Tangke with its rocks and pools of water (water source; 1000 MASL).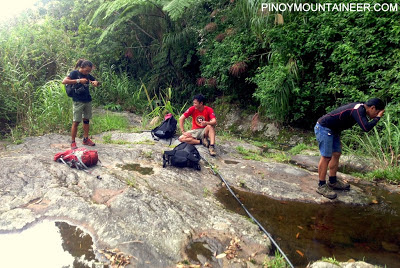 Final rest stop: Tatlong Tangke
By 1630H we had reached Brgy. Kinabuhayan (550 MASL) and thus finished our trek. What an enjoyable traverse! Thank you, Sky, Koi, and Daryl for the great company; to DENR-PASU for allowing our trek; and to everyone for following our adventure! Of course, above all we thank God for giving us good weather!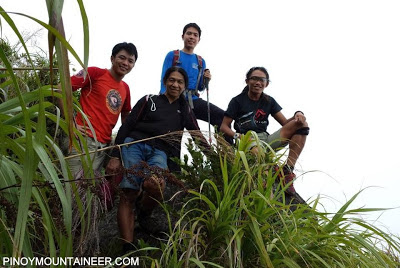 Some pictures courtesy of Daryl Comagon. PinoyMountaineer thanks our Ms. Sally Pangan, PASU, for her gracious assistance during the climb, as well as to the barangay officials of Brgy. Bucal.
QUESTIONS AND ANSWERS


1. Is Mt. Banahaw open?
Access to Mt. Banahaw is restricted, meaning, you have to have a DENR-PASU permit to climb the mountain. Not all requests are granted but it will help if you have a specific agenda on the mountain, such as a tree-planting activity, clean up, etc. The restricted access to Banahaw applies to all entry and exit points including Nagcarlan, Liliw, Sariaya, Dolores, etc.
2. How are the trails of Banahaw?
I am happy to report that the trails are very clean now especially those in the Dolores side. We did pick up a plastic-full of trash in Ikatlong Dungaw but Unang Dungaw was very clean. What a difference ten years make! I think Banahaw is ready for reopening in terms of the trails but of course the logistics and organization of guides, facilities, and permits is a totally different matter.
3. When will Banahaw officially reopen?
As of the latest DENR-PAMB meeting regarding this, the mountain is scheduled to reopen in 2015. PinoyMountaineer is in touch with the PASU and we will give updates as soon as we get them.
4. What is the difficulty of this traverse?
I would give it a rating of Difficulty 6/9, since the regular Tatlong Tangke is 5/9. The difficulty of both of the traverse and the regular trail coming from Nagcarlan is 6/9 since the diffiicult part of the trail is really the Nagcarlan side.
CLIMBS WITH SKY BISCOCHO