Hiking matters #349: Hiking in beautiful Montserrat, Catalonia, Spain
MONTSERRAT, SPAIN – This is my last full day here in Spain and I am very happy that I managed to do one final trek – up and around the rocky peaks of Montserrat mountain (1236m). This mountain sanctuary has a rich history dating back to the Medieval period, and its monastic and cultural traiditions continue today – as evidenced the singing of choirboys and the showcase of great works of art: Picasso, El Greco, and Dali in the basilica, Santa Maria de Montserrat. It is easily of one the crown jewels of Catalonia.
I was joined by Miku Sato (佐藤未来), a Japanese girl I met in Barcelona. From Plaça Catalunya at 0800H, we took the train and then the funicular to Montserrat – the combined roundtrip ticket cost 17.90 EUR. While the train ride was unremarkable, the funicular trip was breathtaking, as it ascended several hundred meters. When we arrived at the terminal, the feeling was ! It was sanctuary, fortress, village, and mountain all at the same time.
There was a choice between climbing the highest spire in the mountain, called Sant Jeroni, or hiking around the mountain through a section of the GR-4. I opted for the latter option, for several reasons. Among them, the fact that it was cloudy and we will not be able to have the famed views of Barcelona and even Mallorca. Moreover, considering the cultural heritage or Monserrat, we wanted to see as much of it as we could Finally, the previous hikes in Vall de Nuria taught me that sometimes a section hike can be more rewarding than peakbagging.
Though steep at times, the trek felt like a walk through the gardens of Mt. Olympus. The approach of summer, with its blooms of varicolored flowers, made it very enchanting, and the view is ¡Estupendo! We could see the surrounding towns and even the faint blur which is Barcelona. The towering peaks, each with its unique contours. As we trekked, they changes their configurations relative to each other – creating novel views at every turn.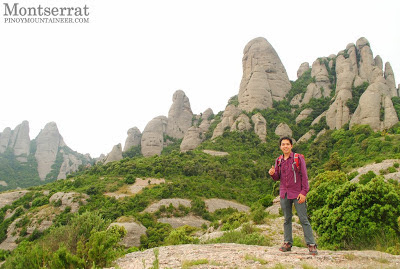 We climbed further until we reached the Refuge de Sant, where some local youths have camped out. According to them, Montserrat is really a popular destination for Catalonians, and I could see the reasons why. We pressed further until we reached some very nice viewpoints, but decided to press further as we wanted to still see the Basilica, and have a nice meal in the restaurant beside it. So here I am now at the train station, about to head back to Barcelona. Farewell, beautiful Montserrat!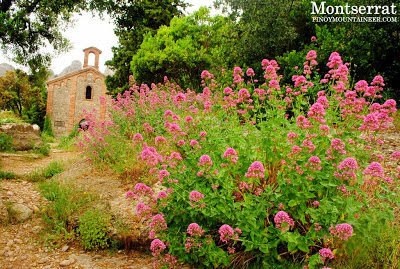 PinoyMountaineer thanks Miku-san for joining him in this memorable adventure!
HIKING IN CATALONIA, SPAIN
Hiking mattters #345: Trekking in Tarragona, Spain
Hiking matters #346: Vall de Nuria Hiking – Puigmal
Hiking matters #347: Vall de Nuria Hiking – Pic de l'Aliga
Hiking matters #348: Vall de Nuria Hiking – GR-11 to Queralbs
Hiking matters #349: Hiking in beautiful Montserrat, Spain
Hiking matters #350: Outdoor shops in Barcelona, Spain
Pictures in PinoyMountaineer Facebook page