Hiking matters #348: Vall de Núria hiking – Trekking the GR-11 from Nuria to Queralbs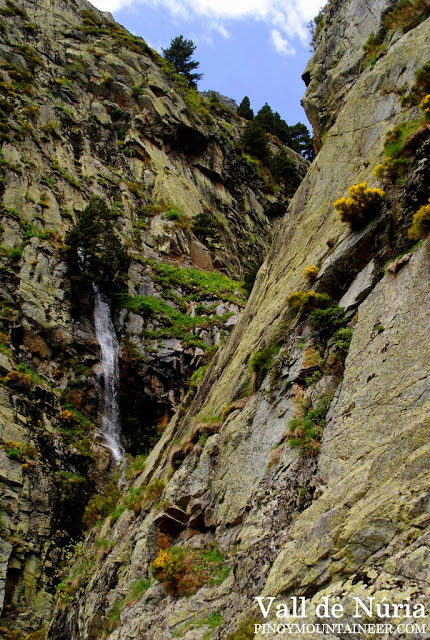 A waterfall cascades down the sheer cliffs of the Gorges de Nuria
Back at the Hotel Vall de Nuria from Pic de l'Aliga, I was ready to take the train to Ribes de Freser when I realized that since I still have enough time, I can actually walk to another train station – in the village of Queralbs – instead of taking the train. One added motivation was the fact that the trek actually comprised a section of the Spanish GR-11, one of the Grande Randonnée or Gran Recorrido long-distance trails in Europe.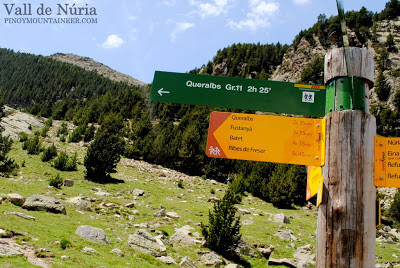 My decision was not a mistake, because the trek turned out to very beautiful, even more than my two Nuria hikes! I half-wished that the trail would never end! (Actually, it goes on and on but it is I who have to head back to Barcelona).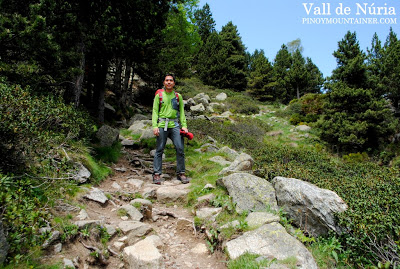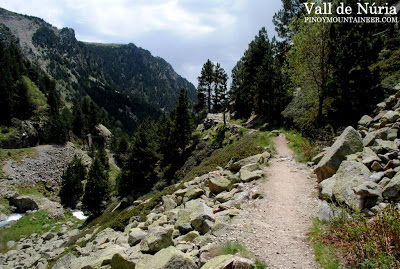 Queralbs is around 1200 MASL and Nuria is around 1900 MASL; the trail was thus largely a descending one, which made it all the more of a relaxation for me, almost a cool down walk. The trail proper was marked by red and white blazes.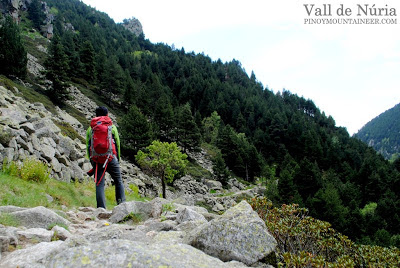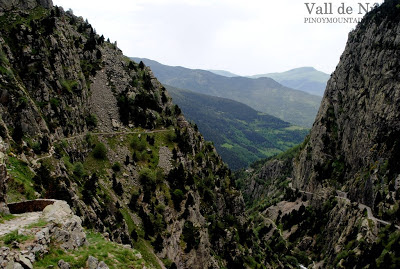 Most of the time, the trail was in the middle of a gorge – the Gorges de Nuria – with a beautiful stream below, and flowers all over. Occasionally, there were even some waterfalls – doubtless fortified by the thawing snow upstream – making it even more scenic.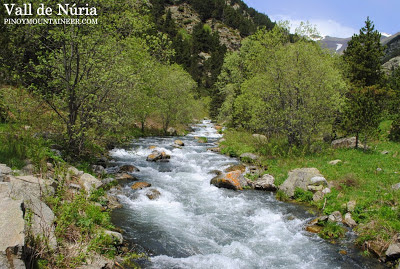 There were some steep descents, as when I had to go down almost to the level of the river to cross the other side of the gorge. There were also some variants of the trail, but I chose the conventional one, since it was the course of the GR-11. After two and a half hours, I found myself walking along the nice houses of the village of Queralbs, and then the train station. What a short but sweet bonus hike!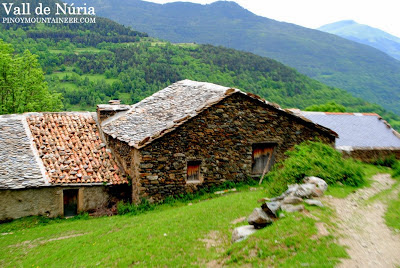 HIKING IN CATALONIA, SPAIN
Hiking mattters #345: Trekking in Tarragona, Spain
Hiking matters #346: Vall de Nuria Hiking – Puigmal
Hiking matters #347: Vall de Nuria Hiking – Pic de l'Aliga
Hiking matters #348: Vall de Nuria Hiking – GR-11 to Queralbs
Hiking matters #349: Hiking in beautiful Montserrat, Spain
Hiking matters #350: Outdoor shops in Barcelona, Spain
Pictures in PinoyMountaineer Facebook page