Hiking matters #346: Vall de Nuria hiking – Puigmal, one of the highest peaks of the Eastern Pyrenees
The highlight of my Europe trip, as far as hiking is concerned, is my hike up Puigmal, located in the French-Spanish border, at 2913 MASL one of the highest peaks of the Eastern Pyrenees. It is dayhikable from Vall de Nuria and is also a possible leg of a multi-day hike as it is near the GR-11 and many other trails.
From Barcelona's Placa de Catalunya, I took a train to Ribes de Freser (7.50 EUR), then the cremallera to Vall de Nuria (free with a hotel booking) – in all taking about three hours. Then I left some of my things at the Hotel Vall de Nuria, where I booked a one night stay before starting my hike. There are many routes up Puigmal, but I just followed the most straightforward ascent. I met many hikers both ascending and descending the mountain.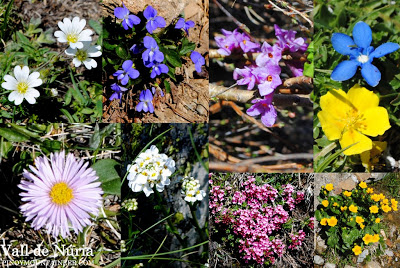 The seasonal flavor of the mountain was very palpable – be it in the form of flowers in bloom, or the thawing ice causing a surge in the rivers downstream. Some parts of the trail were still covered with snow, which I found nice as it reminded me of my Hokkaido hikes a year ago – at about the same season. I like the start of the hike, which featured some rather small conifers which were also in bloom, replete with pine cones.
As I climbed higher, the other peaks surrounded the Valley of Nuria emerged, magnificent with their slivers of snow and rock. Notable among them were the twin Pic de Noucreus (2799m) and Pic de la Fossa del Gegant (2801m), where the main trail of GR-11 passes through; as well as Puig de Fontnegra (2722m), Pic de d'Aliga (2428m), and Torreneules (2711m). The possibilities up and around these peaks are infinite!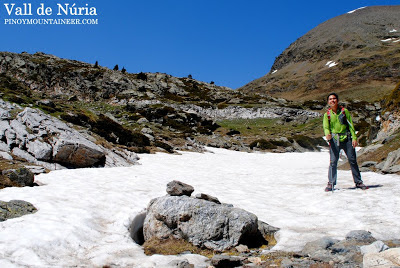 Eventually I reached a plateau, then a stream that was part-frozen, part-flowing; from there, the ascent was continuous up a scree slope of an endless heap of granite rock, which seems to be a common feature of a lot of peaks outside the tropics. It started to get cold with the wild chill, but the sun kept the temperature just fine – some were even wearing just shorts and shirts.
Finally, the cross that marks the summit and the border between France and Spain appeared. Up until that time, I wasn't sure whether it was already Puigmal that was upon me, or some 'peak of deception'. But it was a great relief to successfully reach the mountain I aimed for. What followed was a more relaxed descent; I took my time taking pictures of the flowers del valle, and a nice dinner – tapas y cava – awaited me at the Hotel Vall de Nuria.
HIKING IN CATALONIA, SPAIN
Hiking mattters #345: Trekking in Tarragona, Spain
Hiking matters #346: Vall de Nuria Hiking – Puigmal
Hiking matters #347: Vall de Nuria Hiking – Pic de l'Aliga
Hiking matters #348: Vall de Nuria Hiking – GR-11 to Queralbs
Hiking matters #349: Hiking in beautiful Montserrat, Spain
Hiking matters #350: Outdoor shops in Barcelona, Spain
Pictures in PinoyMountaineer Facebook page