AirAsia Zest now in Manila and Cebu with exciting destinations!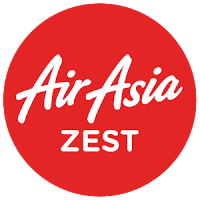 I still remember my first AirAsia flight – from Kuala Lumpur to Surabaya at the start of a 10-day "ASEAN
Adventure" in May 2010 that took us to five countries and several mountains. We flew AirAsia again from Yogyakarta to KL,then KL to Siem Reap: aboard those planes I felt that I am on a new age of with more affordable flights, and more destinations that can open the horizons of many through the education that comes through traveling.
AirAsia has since grown and expanded, and now ZestAir has become rebranded as AirAsia Zest under the Air Asia group – as the airline disclosed to a group of bloggers In an event held at Clawdaddy's (@clawdaddyph) at Bonifacio High Street last November 7. With this news from AirAsia, traveling within and beyond the Philippines just got more exciting!
Previously headquartered in Clark, Air Asia Philippines is now in Manila, offering the following domestic destinations: Cebu, Davao, Kalibo, Tagbilaran, Cagayan de Oro, and Puerto Princesa. Moreover, they are also offering flights to Kuala Lumpur, Kota Kinabalu, Incheon, Shanghai, and Macau. Interestingly Air Asia Zest is also offering a Manila to Miri flight, which should be very interesting. There are lots of mountains and outdoor activities in Sarawak!
Moreover AirAsia is also now in Cebu, with flights to Manila, Davao, Cagayan de Oro, Puerto Princesa, and Kuala Lumpur.
Watch out for exciting promos from AirAsia! You can book your flights at airasia.com. You can also like the AirAsia Philippines Facebook page (click this link) and follow them on Twitter (@AirAsiaPH) for updates.
Note: This is a sponsored post.