The joys and blessings of hiking with my family by Raquel Cordero
by Raquel Cordero
Special feature for PinoyMountaineer.com
Memories in the Mountain
"I am losing precious days. I am degenerating into a machine for making money. I am learning nothing in this trivial world of men. I must break away and get out into the mountains to learn the news," wrote Scottish-American naturalist and author John Muir a decade before we existed in a world where majority of us are looking down on our smartphones, bonding with our virtual friends over social media instead of trying to have a meaningful conversation with the people sitting right next to us – our family.
Out of curiosity and after the incessant prodding of common friends, my husband and I first climbed a mountain in 2007. We did not take it seriously, for we stayed up all night prior to the trip – thinking that it would just be a simple hike and no special kind of preparation would be necessary – but, until now I can still remember how exhausted I was when we reached the summit of Mt. Daguldol where we camped to relax and just enjoy the night.
Unfortunately, after giving birth to our son, the following years were spent working, raising a family, building a home – all inherently good things – but as what John Muir said, we felt like we were losing precious days. We ached for moments to just enjoy each other's presence without getting distracted by our problems and fears. We missed the beauty and quietness of nature, and vowed that as soon as our son was ready for an adventure, we would take him to the mountains.
Small Family, Big Adventure
Finally, when our son Basti turned six, we decided to go on a dayhike as a family. We had no idea where to go and being typical device-distracted parents, we knew how to turn to Google for some answers. I typed in the keywords, "dayhike for children near Manila," and the first among the 900,000+ results that came up was the blogsite Pinoy Mountaineer – brainchild of medical doctor and anthropologist Gideon Lasco.
On October 27, 2013, we embarked on our first family mountain-climbing exploration in Mt. Batulao, Nasugbu, Batangas. Pinoy Mountaineer was very helpful in terms of creating an itinerary, preparing for your budget and transportation, and taking a sneak peek of the mountain by looking at the pictures. It has become a habit for us to refer to this website even as we climbed Pico De Loro and Mt. Maculot within the last couple of years.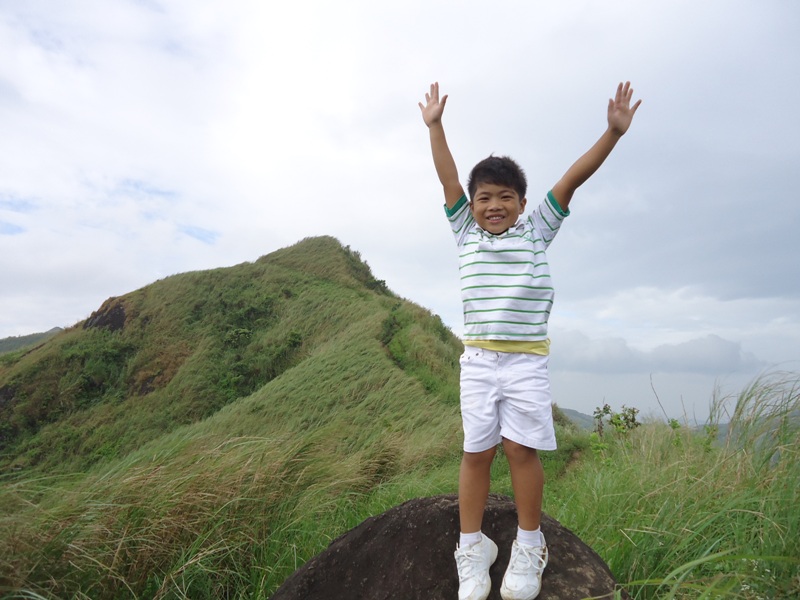 "Play is often talked about as if it were a relief from serious learning. But for children play is serious learning. Play is really the work of childhood." – Fred Rogers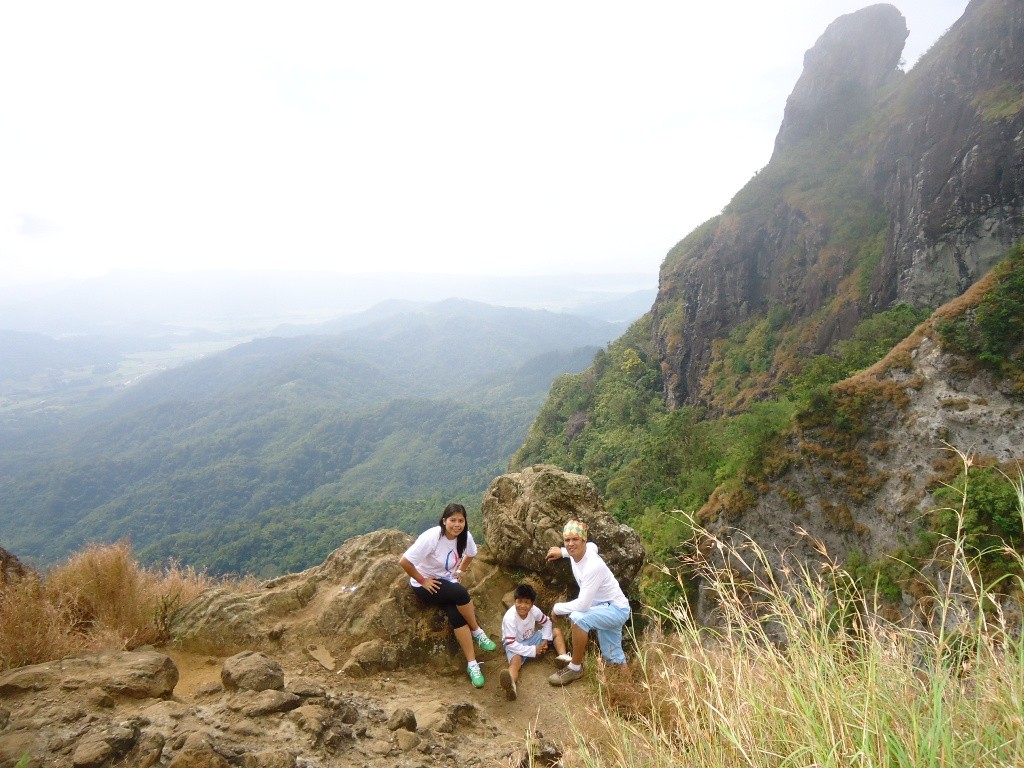 This picture was taken near the campsite of Pico De Loro on December 23, 2013. We did not climb all the way to the summit because we were worried that it might rain as it did in the beginning of our ascent.
Pinoy Mountaineer Climbs with Kids
Basti recently turned 8 years old and it's beginning to look a lot like Christmas, but we haven't been to any mountain this year; we terribly miss hiking. I was ecstatic when I saw Pinoy Mountaineer's Facebook post about his plans of climbing with kids, so within a few minutes after seeing the status, I e-mailed Gideon Lasco to express our interest to join this beginner's dayhike and he immediately replied that Basti made it to the list. The process went smoothly, we communicated through text with the help of his assistant Brent Tan, and met up at EDSA Buendia at exactly 5:30 AM on October 24, 2015.
Together with three other families and our children, a van brought us to Mt. Manabu in Lipa, Batangas at around 8:30 in the morning. Before our hike, Gideon Lasco started with a short briefing and gave an inspirational talk to further inspire and motivate us families who, despite having some mountaineering experience, felt humbled by the presence of such a down-to-earth leader who has climbed mountains all over the world, yet took the time to mentor our children.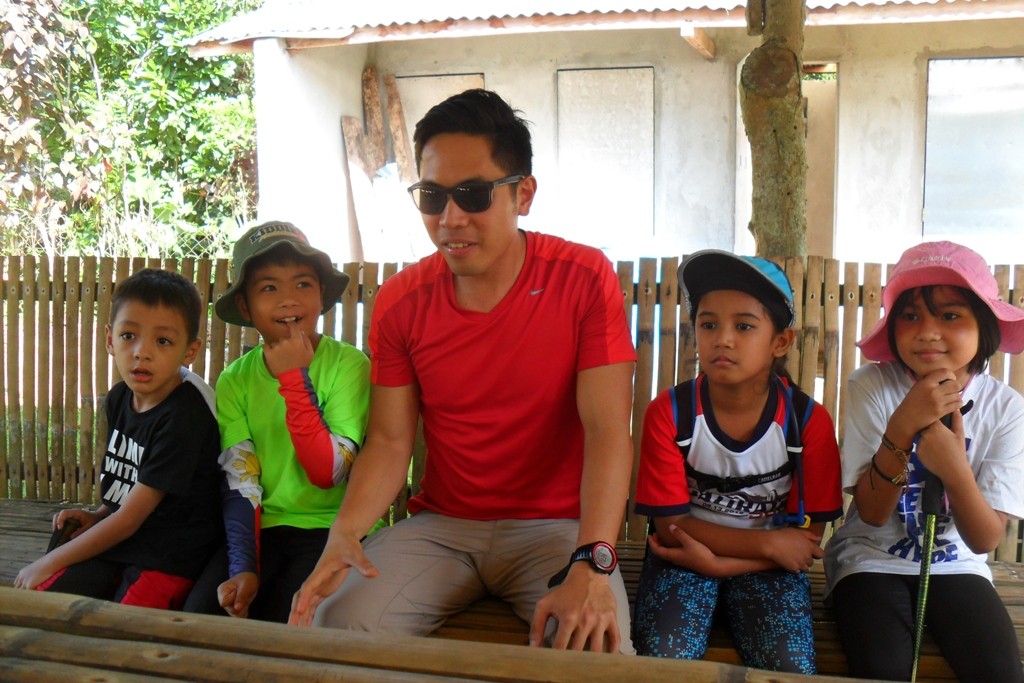 There was a question and answer portion. Gideon asked the children, "Do you know what MANABU means? (It's Mataas na Bundok)," and "Is the spider an insect? (No, it's an arachnid)." He also encouraged the children to think of an adjective with the same first letter as their name. From left: Gutsy Gab, Brave Basti, Gideon (the Genius), Jolly Jamie and Likable Lyka.
Here are at least five key takeaways from Gideon's short but meaningful orientation:
Always be prepared before each climb. Get the recommended eight hours of sleep and make sure you are well-rested before hiking to increase your endurance.
Have a list of things to bring. Even if you are just planning to do a dayhike, remember to bring a flashlight or headlamp in case of emergencies. Make sure you have enough trail food as well to keep you energized while hiking.
Be open to nature. Just be happy and enjoy the activity. There are many interesting things to see. For example, we will find sampinit along the way. They are the rarest wild raspberries of the Philippines and they can be eaten. Gideon said that we would also find a big cross at the summit and at this point, the children simply could not contain their excitement.
Keep the mountains clean. He modelled the way for us as he held open a plastic bag on our way down from the summit. He picked up litter and the children imitated him cheerfully. He said that if we take care of the mountain, it will also take care of us.
Don't get out of the trail. It is easy to get lost in the mountains if you don't follow the trail. There are dangers that can be avoided if you simply walk closely with the group.
"A mountaineer is always prepared," Gideon said as he stood in front of the group to lead the warm up exercises. "Our bodies must be well-stretched to avoid cramps," he added. Eventually, he ended the morning briefing with a prayer. "Of course, above all things we must be prepared spiritually," he concluded. As a Christian family, we appreciated this act of reverence for God – whose majesty is evidenced by the grandeur of the mountains and whose glory is declared by the skies – calling to mind that our Lord Jesus Christ was quite fond of the mountains when we was living among his people, as he had a habit of spending his solitude in prayer and reflection.
One of those days Jesus went out to a mountainside to pray, and spent the night praying to God. (Luke 6:12)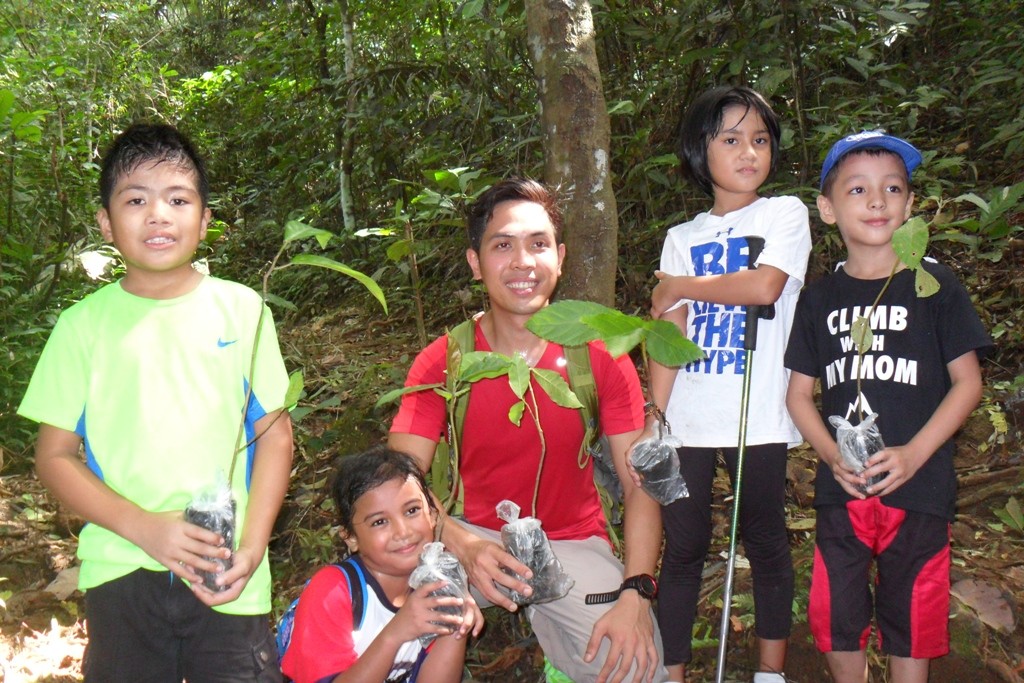 Another fun and fantastic learning activity that our children enjoyed was tree-planting somewhere in the middle of Mt. Manabu. We were all sweating profusely as our guide Brent stopped to dig some holes where the children could plant the seedlings that we got from the jump off.
I could not believe that we were able to accomplish so much in so little time: tree-planing, picture-taking, getting to know one another and strengthening family ties. Manabu Peak truly was the perfect spot for the first ever Pinoy Mountaineer Climbs with Kids, as it was a short yet challenging hike for all children and adults. "Thousands of tired, nerve-shaken, over-civilized people are beginning to find out that going to the mountains is going home; that wildness is a necessity," wrote John Muir in Our National Parks.
Mountaineering is a magnificent experience for families who want to learn the art of noticing in their daily lives, to escape the noise and distractions of the concrete jungle. From constantly keeping an eye on your children lest they stumble along the way, to taking photos of unusual creatures that you will only find in these secret places – mountaineering allows you to live with mindful presence and the innocent playfulness of a child. It lets us lose track of time without guilt or the pervasive disease of our culture called FOMO or the fear of missing out, and permits us to let go of our anxieties even for one day as we feel small and humbled by this vast, natural elevation. As Paulo Coelho said, " You don't need to climb a mountain to know that it's high."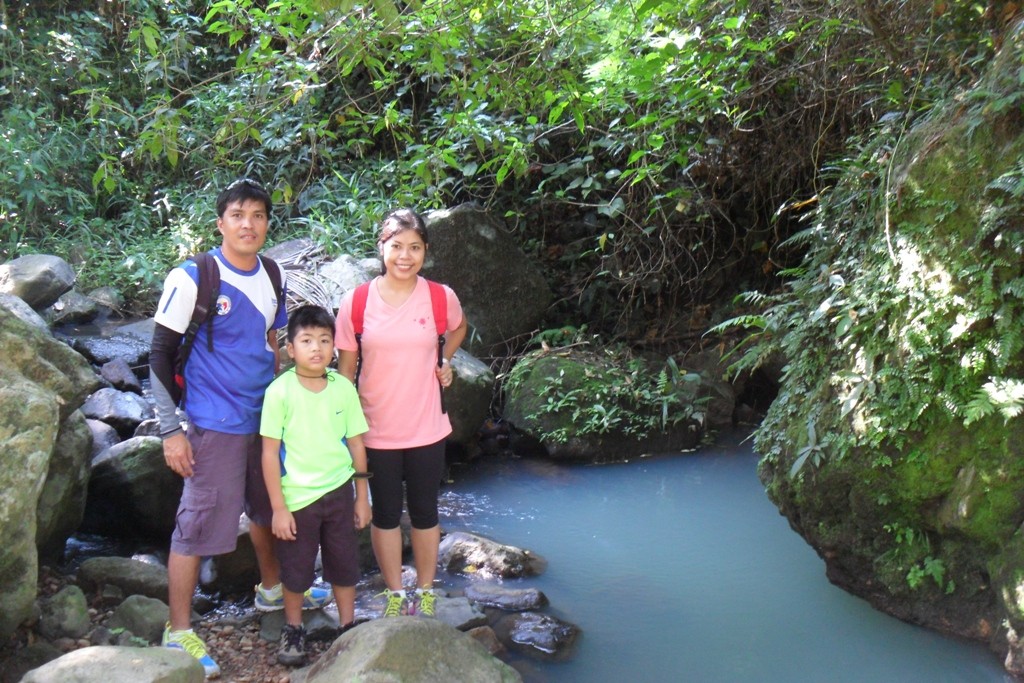 "Everybody should be quiet near a little stream and listen." – Maurice Sendak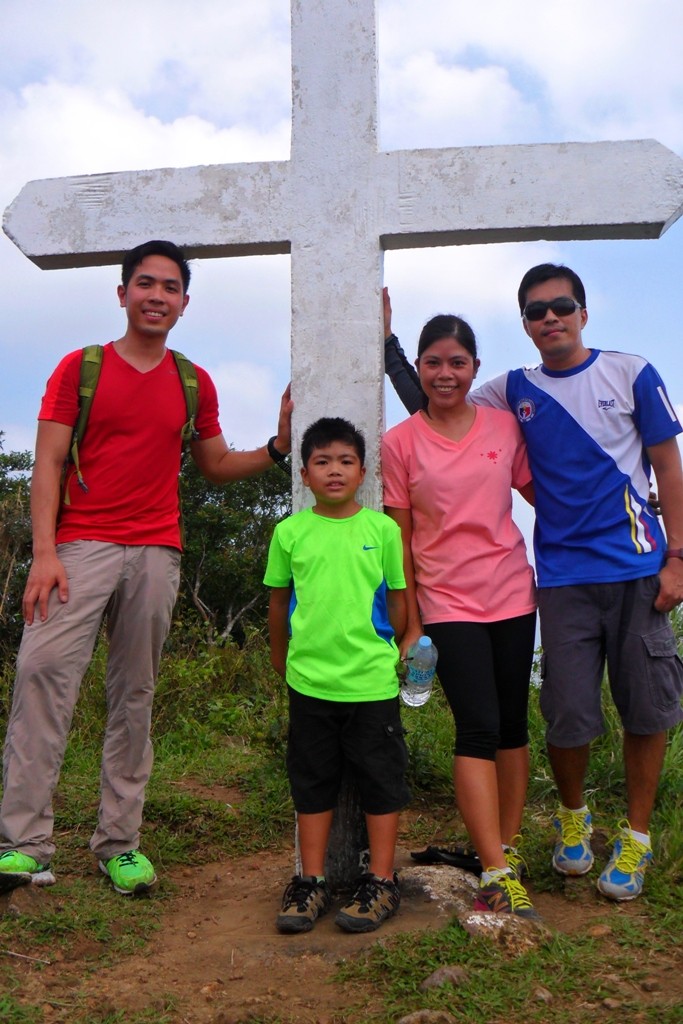 The Cordero Family at the summit of Mt. Manabu, with our mountaineering mentor and inspiration, Gideon Lasco. (Basti was getting tired and hungry, and was trying his best to smile for the photo-op).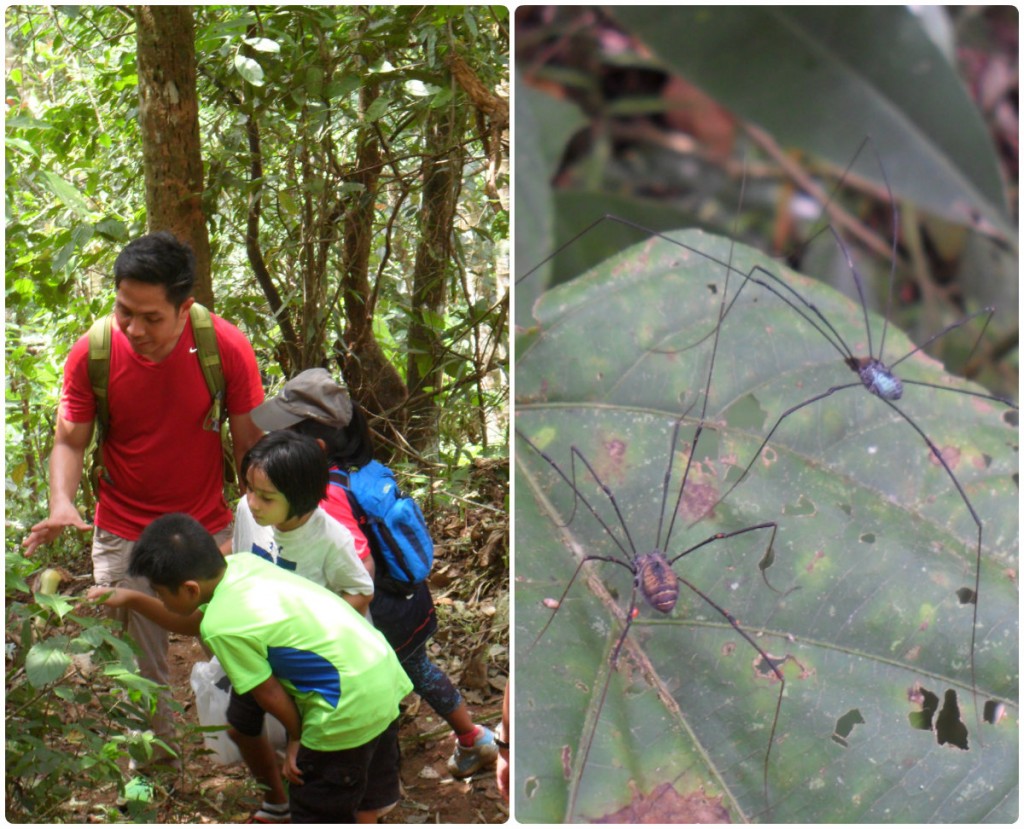 An Art of Noticing. Gideon saw some spiders and encouraged the children to slow down and appreciate the unique creatures that they would find along the way. He explained that we did not have to hurry as we were not pressed for time. He was also holding a plastic bag to pick up some trash – proof of his genuine advocacy and love for the mountains.
Also a terrific storyteller, Gideon shared many instresting stories from his most remarkable climbs which he had all committed to his memory. Among our favorites are the tales of the talking bamboo, the magic shirt, the limatik that came out of his eye, his life-threatening encounter with a raging river, and many others that could fill up an entire book. He also showed us some videos of his climbs with celebrities and his most recent trip to the Swiss Alps.
As a novice mountaineer, as a mother and as a preschool teacher, I highly encourage friends and families to get outdoors and see the glorious mountains. I guarantee it's the perfect chance to take a breather from our productivity-obsessed lifestyle, to walk with our children for the simple joy of being with one another. We live in a fast-paced society. Hiking or mountaineering helps us to slow down and think clearly. Let us spend time playing and exploring with our children while we can, for these are memories that are built t0 last a lifetime.
Cordero, Raquel. "The joys and blessings of hiking with my family"  Essay. Published October 27, 2015 in PinoyMountaineer.com