Join the Pinoy Mountaineer Mt. Fuji Expedition 2017!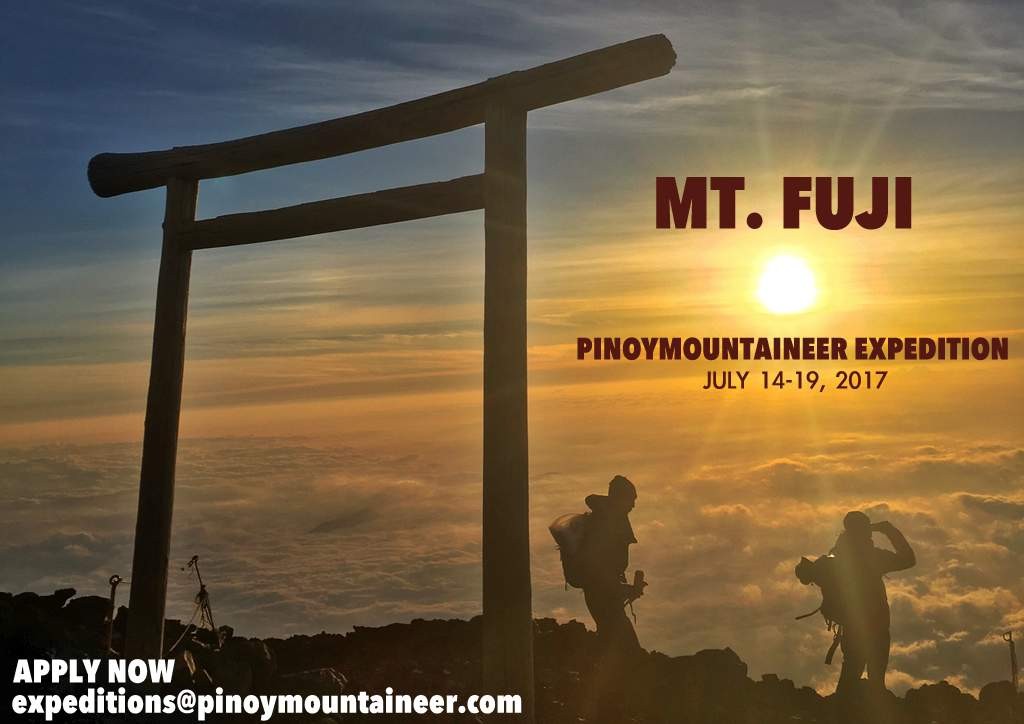 Apply now to join the Pinoy Mountaineer Mt. Fuji Expedition 2017 on July 14-19, 2017!
Mt. Fuji is one of the most famous mountains in the world, and a volcano that is the national symbol of Japan. Hikers in East Asia try to complete the East Asia Trilogy of Kinabalu, Jade Mountain, and Mt. Fuji.
Aside from Mt. Fuji – Japan's highest peak – the expedition aims to give participants enough time to explore Tokyo on their own and go on optional hikes in the region.
The hike is open to experienced hikers, preferably those with prior experience in hiking abroad (i.e. Kinabalu). The budget for the hike, including hostel accommodation in Tokyo, private transportation to Mt. Fuji, logistics, lodging in the mountain, and guideship in Mt. Fuji is $800.
To apply, please send an email to expeditions@pinoymountaineer.com together with these details:
Name:
Age:
Occupation:
Hiking experience:
International hiking experience if any:
Special interests in Japan / Hobbies:
Looking forward to my 7th hiking trip to Japan in 2017! For my two previous mt. Fuji hikes please see Hiking matters #16 and Hiking matters #516.