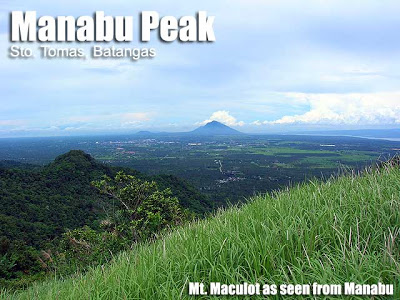 MANABU PEAK
Sto. Tomas, Batangas
Jump-off point: Sulok, Brgy. Sta Cruz, Sto. Tomas
LLA: 13.9777°, 121.2413°, 760 MASL
Days required / Hours to summit: 1 day / 1-2 hours
Specs: Minor climb, Difficulty 2/9, Trail class 1-2
Features: Woodlands, meadowy peak, views of Batangas mountainsBACKGROUND
It's just two hours to climb, and the peak area is like a beautiful garden. The highest point is marked with a white cross. Grass, as if trimmed by a lawnmower, covers the summit area, and there are flowering plants and shrubs – with blossoms of yellow, red, and pink. During summer months, wild berries called 'sampinit' grow on the trails near the peak. They are edible and sweet, like mini-strawberries. This image of an elegant park is exactly the image of Manabu Peak, probably the easiest, most accessible mountain from Manila. Add the beautiful views of the Malipunyo mountain range, as well as
Mts. Maculot
and
Makiling
, and it's picture perfect!
The name Manabu is said to be abbreviated from 'Mataas na Bundok'. It is one of the three major peaks of the Malipunyo range (the other two are the Malipunyo summit and Susong Dalaga peak). Probably because of its geography, it's usually cloudy in Manabu, lending an almost nostalgic air. Although Sto. Tomas is a peripheral town of Batangas, the dialect used among the locals in Manabu is distinctly Batangueno. It adds a local flavor to the Manabu experience, much like the homemade kapeng barako which Mang Pirying, owner of the hut midway through the trail, would offer the hikers.
Because of its easy access, short trail, and very beautiful environs, Manabu Peak is a great introduction to hiking for beginners. Even then, veteran hikers rank this mountain as one their favorite 'fun climb' destinations – or as part of a more challenging traverse to Mt. Malipunyo.
ITINERARY
0600 ETD Lucena or Lipa bound bus at LRT-Buendia (P90)
0730 ETA Brgy. San Pedro, Sto. Tomas. Take trike to 'Sulok'
0830 ETA 'Sulok', Brgy. Sta. Cruz
0900 Start trek
1000 Reach Mang Pirying's place
1100 ETA summit.
1130 start descent
1300 Back at jump-off. Proceed back to Sto. Tomas.
1330 Lunch at Rose and Grace restaurant, Sto. Tomas (famous for Bulalo)
1500 Cross the highway and wait for bus back to Manila
1700 ETA Manila
PRACTICALITIES: MANABU PEAK
Transportation

Public

 (1) Bus, Buendia or Cubao to Lipa, Batangas [2 hours; 132 pesos]

(2) Tricycle, Lipa to Sulok, Brgy. Sta Cruz [100/trip; 30 minutes]

*The tricycle terminal is at the Fiesta Mall junction. Ask the bus conductor to drop you there, or if it passes by STAR Tollway you might have to take a tricycle from the bus terminal to the tricycle terminal*Alternatively, take any Lucena-bound bus and get off at Brgy. San Pedro, Sto. Tomas and take a trike to Sulok, Brgy. Sta Cruz. Expect to pay a lot more for the trike (P250/trip)

Approximately 3 hours travel time because of various stops and delays. 

Private. Take SLEX and follow through to STAR Tollway, exit at Lipa-Tambo, and follow the highway back to Lipa. Go past Robinsons Mall until you see the Fiesta Mall junction. Turn right there, follow the road, and make a left turn to the road that leads to Sto. Tomas. Make a right turn at Brgy. Sta Cruz and ask the locals for the direction to the narrow road that leads to the trailhead where parking space available.


Approximately 2-2.5 hours travel time.

Registration

(1) Logbook at the barangay hall. P20 registration fee.

Available at the trailhead but not required (500 pesos for the dayhike; 1250 for overnight)

n/a

Campsites and waypoints

Summit campsite is spacious and can fit > 20 tents

Water sources

Several; available at the rest stops

Cellphone signal

Present through most parts of the trail

River crossings

Small stream near the start of the trail with minimal risk of flooding

Roped segments

None required but some ropes are set up in the final assault to assist hikers as the soil might sometimes be slippery

None

Minimal

Rattan

None

Hiking notes

Sidetrips

From the summit, it is possible to make a loop hike passing by the 'Grotto', which features slightly more challenging, forested trails with some rattan. Manabu Peak is often done as a 'Twin dayhike' with nearby Mt. Maculot.

Alternate trails

Yes (2.5-4 hours to summit; 1.5-3 hours down on either of the above-mentioned trails)

Facilities at jumpoff

(+) Sari-sari stores
(+) Wash-up / shower places
(+) parking

500-700 (dayhike)
800-1000 (overnight)
MANABU PEAK PICTURES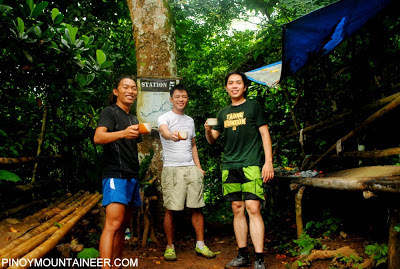 Enjoying coffee at the Mang Pirying's Hut at Station 5
Some parts of the trail are nicely forested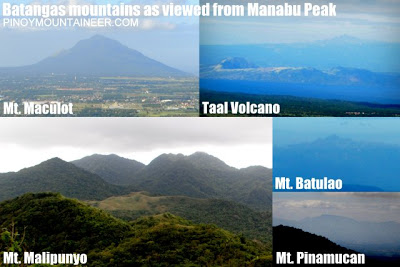 Mountains that can be seen from the summit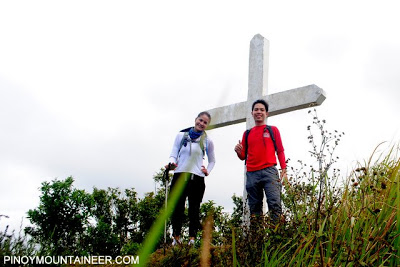 The summit is marked by a cross
TRIVIA
The author met Mang Pirying on his first climb to Manabu Peak in 2004, during which he showed him and his companions the right direction to the peak. Three years later, in Feb. 2007, he dropped by the hut again, and Mang Pirying remembered him! "It's good that this time you didn't get lost," he quipped.
PINOYMOUNTAINEER IN MALIPUNYO RANGE
Hiking matters #3: Oops, wrong mountain!
Hiking matters #80: For the love of coffee and fresh mountain air