Hiking matters #31: Back to Batulao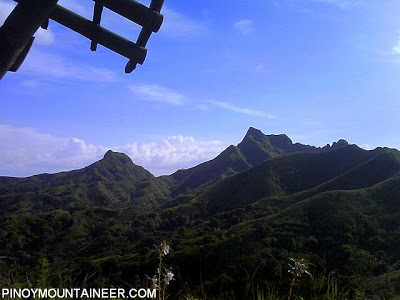 Less than a month after I tried the new trail of Mt. Batulao, I had no choice to come back again: I did not have the luxury of an entire day (for which a Pico de Loro traverse would have been perfect) – all I had was half a day, so I found myself in the Crow bus once more, on the way to Evercrest. I was joined by med freshman Roland Ventura who joined me in my final night duty in Internal Medicine, as well as sohpomore Sheena Sy who wanted to experience her first-ever climb.
What else can I add to my past experiences? It was the same old climb. The chorus of kids greeted us again in Evercrest. I know the trails by heart, but a nine-year old kid named Melvin was so persistent that I had to accept his offer of accompanying us.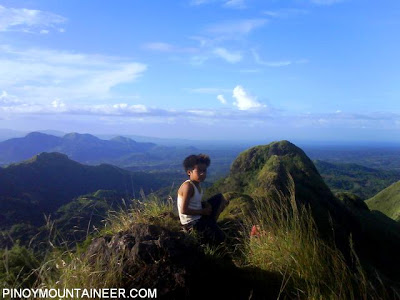 At the trailhead, however, there was JR, the older kid who guided me last month. He was surprised to see me, but instead of being pleased he was quite disappointed that I got another guide in his place. Not to be outdone, he followed our group and tried to intimidate Melvin into giving up his place! Mga bata nga naman. Patiently, I told JR that I didn't need a guide, but I was just giving the younger kid a lucky break. Imagine what this JR said, dejectedly: "Palagi ko pa naman kayong inaabangan!" Awww!
Sheena was at first overwhelmed with our pace – so I promised a ten-minute break at the 'Mini-Stop' which sells fresh buko juice at P20 apiece. Did you know that buko juice is a very clean, sterile liquid that has found use as a improvised IV fluid in far-flung areas and during wartime– in the same way that in modern hospitals we use fluids such as 'dextrose'?!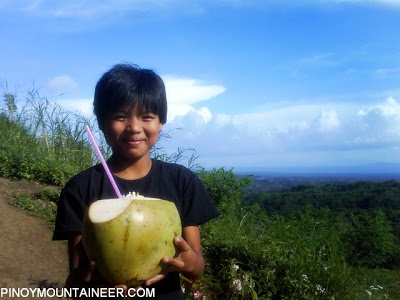 Why not? Buko juice from a single coconut naturally has 650 mg of potassium (15x more than a banana), 25mg of magnesium, and 35 mg of sodium! In fact, a study in 2002 compared Fresh Young Coconut Water (buko juice), Carbohydrate-Electrolyte Beverage (Gatorade) and plain Water for rehydration after exercise. What were the findings? It turns out that buko juice was just as effective as Gatorade in rehydration, and it was also "significantly sweeter, caused less nausea, fullness and no stomach upset and was also easier to consume in a larger amount compared with (Gatorade) and plain water"!
In our case, the buko juice seemed to work, especially for Roland who hasn't eaten anything since our 12-hour duty. We resumed our trek, energized, and when we emerged from the mini-forest beyond the new trail campsite, the winds were very strong and refreshing. The two first-timers were relieved and pleased that we finally reached the summit. As for me, I searched for Gulugod Baboy from which I thought I saw Mt. Batulao just last week.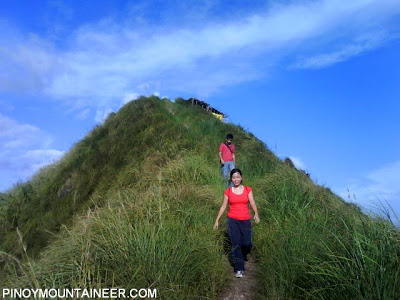 The nine-year old Melvin was talkative- and pointed out some wild chickens (labuyo) as well as tracks of monkeys he says live in the denser areas of the forest. Moreover, he said there is a cave not far from the summit. Unfortunately, we had no time for exploration with the inevitable sunset looming.
Instead of feasting in Tagaytay, this time around we headed straight for Manila via the Erjohn & Almark bus. Same fare, P114.00 and same mountain. And for me, same effect: Back in Manila I'm just glad I was able to climb. That's it!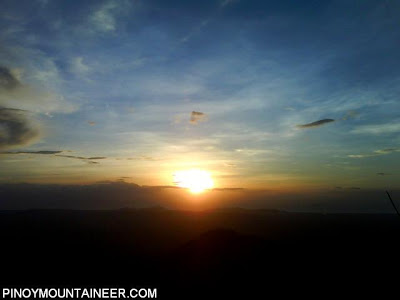 This edition of 'Hiking matters' is an account of a climb done on October 26, 2008. Pictures taken by the blogger with Sony Ericsson w850i.
THE BLOGGER'S PREVIOUS CLIMBS IN BATULAO