Kovea cooksets: For penny-pinching mountain gourmets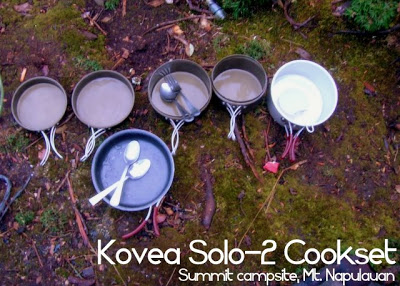 Gear review by Cecil Morella (AMCI)
Equipment Adviser, PinoyMountaineer.com
PinoyMountaineer.com is honored to have Sir Cecil Morella of AMCI as its equipment adviser starting May 2009, providing insights on camping gear and equipment in the website's "Climb Gear" section.
A strange thing happened when I first went shopping for my first ever mountain cookware. I was naturally drawn to the high-end ultralight pots and pans on display, but the shop owner astonishingly dissed his expensive models and recommended an unfancied lump of cheap aluminum.
"Titanium burns rice easily," was his worldly advice, amassed through many years spent in the wildest corners of the country. "You're better off with Kovea." And so it has been for me ever since.
Apparently, I was not the only rice-eating backpacker to get the same tip because the South Korean brand is also the favourite cookset of most members of my club, such that it is difficult to sort out which items are mine whenever it is time to break camp. Save for the occasional GSI or MSR we see when swapping dishes with other groups we meet on mountaintop campsites, Kovea seems to be the default cookware as well. It sells in most outdoor shops, including one local online store.
My club prides itself on the elaborate dishes cooked up in its camp kitchens . Not for us are the boil-to-eat instant noodles, sachets of mayonnaise squirted on cold bread loaves, or canned sardines. Meals are planned and agreed to weeks before a climb, viand is seasoned and pre-cooked at home, thrown into the freezer until they turn rock-solid, and carried in our packs to be given to the assigned campkeeper to prepare for meals on the trail. Although we prefer to carry the pot from the rice cooker to for our steamed rice, the Kovea Silver for 5-6 adequately serves most camp kitchen needs, be they for preparing linguini, chicken curry, chocolate pancakes or even for just reheating strips of leftover roast suckling pig. If a club climb coincides with a birthday and the celebrator wants to party, we carry a whole "lechon", and even gallons of ice cream packed in dry ice, up the mountain in the backpack of one member, who assigns the normal contents of his pack to other members of the group.
Compared to the American brands which are at least twice as expensive, the Kovea tips the scales at one full kilogram, but that is only because the set also comes with throwaway plastic items. Depending on your club culture — ours is to use wooden spatulas and to require members to carry their own individual mess kits — the scoop and ladle, the bowls and dishes can be dispensed with. I don't bother bringing the half-litre pot at all, making do with the 2-litre and 1-litre pots and their individual lids plus the non-stick frying pan to keep the weight down to that of an equivalent MSR Blacklite, a classic set that weighs just 665 grams. Unlike the more expensive makes moreover, Kovea pots and pans come with attached handles that wrap around the items for easy stowing . If you lose an MSR pot grabber by contrast a replacement unit would set you back 450 pesos.
Aluminium pots tend to get dented more easily, but mine have retained their shape through the years , though the bottom of the big pot is permanently singed into coffee brown after a rare stove malfunction several years ago while trekking up the Spanish Trail to Sagada.
Cleaning them, always a challenge in mountain environments where water is sometimes worth its weight in gold, is surprisingly a breeze. Just boil several spoonfuls of water to remove the grease, and wiping the surfaces with paper napkins or the old newspapers that you wrapped your meat rations in will take care of the rest. Just make sure to keep the pots out of reach of roaming animals — rodents, mainly, though free-range cattle ate our angel hair pasta on Mount Ugo and feral dogs stalk the campsites on Pico de Loro and Gulugod Baboy. I usually hang the pots on a tree branch for the night, along with the garbage and the rest of the food, which also keeps most of the ants away. On grassland or open campsites however, you must store them inside your tent's vestibule.