Mount Victoria (1,726+) in Narra, Palawan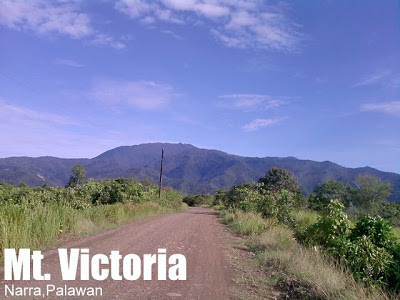 MOUNT VICTORIA
Narra, Palawan
Major jump-off: Sitio Mariwara, Bgry. Princess Urduja, Narra
LLA: 1726 MASL
Days required/ hours to peak : 2-3days / 9-11 hours
Specs: Major Climb, Difficulty 7/9, trail class 2-4 with river crossings
Features: River crossings, tropical and ultramafic forests, rare pitcher plants
Last updated: November 29, 2014
BACKGROUND
In the tradition of Mt. Mantalingajan rises another giant in Palawan, "The Last Frontier of Philippine Mountaineering". Mount Victoria in the municipality of Narra (94 kms. south of Puerto Princesa) is an unexplored and wild destination, with its unbelievable array of flora and fauna just starting to be discovered. Very recently, a "spectacular" rat-eating pitcher plant" was discovered in Mt. Victoria, creating a global sensation for scientists and media alike. It has since been named Nepehenthes attenboroughii and is just one of the species that are beginning to be unravelled in this mountain paradise. Then, of course, the cultural value of this mountain is equally significant, being home to the native Tagbanua tribe.
The terrain of Mt. Victoria is diverse, exciting, and therefore a treat to the intrepid trekker. To start with, a biodiversity of its magnitude can only be nourished by an abundance of water. Hence the numerous waterforms in Mt. Victoria: streams, waterfalls, and even lagoons. You can only imagine the unexplored species lurking in these hidden lakes. For their part, mountaineers have to ford these streams and falls; indeed "80% of the trail involves crossing major and minor rivers".Other destinations waiting to be explored include Atong Peak, and Sultan Peak, and countless other nameless peaks of the Victoria Range.
The trek to the summit of Mt. Victoria is challenging. A mininum of four days is required to do the trek. As mentioned, the trek heavily involves river crossings; and the land trails are mostly steep, and would oftentimes involve bouldering. Yet, just like Mt. Mantalingajan, the rewards are overwhelming. Aside from the biodiversity and the tribes; the summit affords views of South China Sea and Sulu Sea, the neigboring peaks and mountains. This is one climb where you will feel that you have come back to the ancient times. And it will be one adventure of a lifetime!
ITINERARY
Day 0
1300 From San Jose Terminal, take shuttle van to Narra, Palawan
1500 ETA Narra, Palawan. Check in at lodge/inn along national highway
1600 Register with tourism office / police station of Narra, Palawan
1800 Dinner / briefing
Note: One can opt to arrive earlier in Day 0 and visit Estrella Falls.
Day 1
0500 Breakfast
0600 Take tricycle to jump-off point at Sitio Mariwara, Bgry. Princess Urduja
0700 Start trek and crossings of Buhawi River
1200 Lunch at Huling Sapa (i.e. the last river crossing)
1300 Resume trek
1600 Arrival at Mt. Victoria Campsite (water source nearby) / Set up camp
1800 Dinner / socials
Day 2
0500 Wake up call
0600 Start summit assault
0800 Arrival at summit of Mt. Victoria (1726m)
0900 Start descent
1030 Back at High Camp / Break camp
1200 Lunch
1300 Trek down
1600 Arrival at Camp 1 ) / Set up camp
1800 Dinner / socials
Day 3
0600 Wake up call
0700 Breakfast / break camp
0800 Start trek / River crossing
1200 Back at trailhead in Sitio Mariwara. Take trike back to town
1300 ETA Narra, Palawan / Lunch
1400 Take van back to Puerto Princesa
1630 ETA Puerto Princesa
*Note: It is possible to abbreviate Day 2-3 in one long day, making for a two-day climb, but the three day itinerary is more friendly especially because the rivers tend to swell during the afternoon rains.
PRACTICALITIES: MT. VICTORIA
Public (1) Van, San Jose Terminal to Narra, Palawan [150 pesos, 2 hours]

(2) Tricycle, rented, Narra poblacion to Sitio Mariwara, Princess Urduja [500 pesos per way, good for 3-4 persons)

Approximately 3-4 hours travel time

(1) Logbook at the tourism office of Narra and/or barangay hall of Princess Urduja. No registration fees collected as of November 2014.

Kuya Julius is the main guide for hikes in Narra (500 pesos per day)

+63398826987 – Jehson (Tourism Office)

+639099140540- Julius (lead guide)

High Camp (around 1400 MASL)

Camp 1 near last river (around 300-400 MASL)

Abundant in the river crossing part of the trail and present in campsites

Present and campsite and peak

Buhawi River – 13 river crossings in total. Proceed with caution especially during rainy season

Insect repellant highly recommended due to abidance of insects, including mosquitoes, particularly on the first part of the trail. Guides would advice wearing of slippers during the entire river crossing part but hikers who are not comfortable with slippers should just wear shoes as there are many intervening sections of forest trails.

From Narra, Estrella Falls is a 20 minutes away by tricycle and can be done on Day 0 or Day 3.

From the summit the 'Tooth' which is the second summit of Mt. Victoria is accessible with another 2 hours of trekking. The trail, however, is not very established.

Theoretically possible

(-) Sari-sari stores

(-) Carinderias / paluto

(-) Wash-up / shower places
MOUNT VICTORIA PICTURES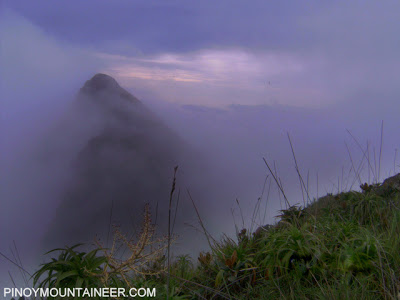 Perpetually mist-covered, mysterious, and never-before-summitted, 'The Teeth' is one of the yet-unclaimed trophies in Philippine mountaineering. (J. Cervancia, 2009)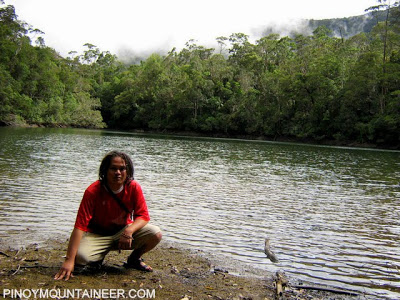 Atabay Lake, at 700~800 MASL, is one of the notable waterforms encountered during a climb up Mt. Victoria.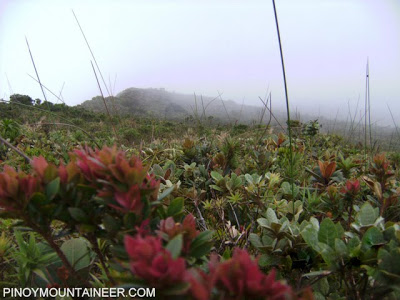 View from the trail-less summit assault, with the mist-covered summit up ahead. The flora are similar to those of Mt. Mantalingajan and Mt. Kinabalu.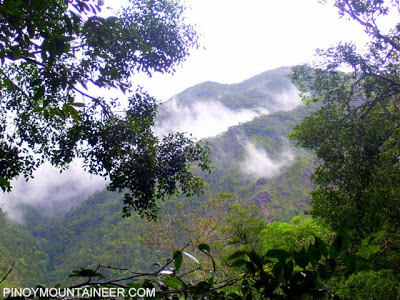 Atong Peak – another unexplored but prominent feature of the Victoria range. What flora and fauna lie undiscovered in its slopes?
TRIVIA
The elevation of Mt. Victoria is 1726 MASL. It is the second-highest mountain in Palawan, next only to Mt. Mantalingajan, "The Mountain of God".
Mt. Victoria is the 90th mountain to be entered in the PinoyMountaineer database.
NARRA, PALAWAN WEATHER FORECAST
PinoyMountaineer thanks Jehson Cervancia for the information and pictures in this article and wishes him the best in future explorations within the Narra and Palawan areas.