Mt. Thumbpeak (1,296+) in Puerto Princesa, Palawan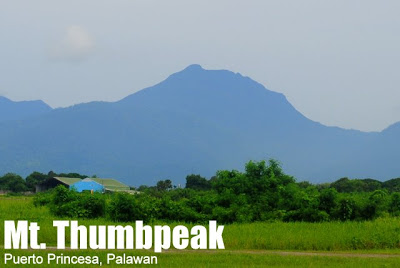 MT. THUMBPEAK
Puerto Princesa City, Palawan
Major jumpoff: Iwahig Penal Colony, Puerto Princesa City
LLA: 9°47′55.4″N 118°36′20.4″E, 1296 MASL
Days required / Hours to summit: 2-3 days / 7-11 hours
Specs: Major climb, Difficulty 7/9, Trail class 1-4 with river crossings
Features: River crossings, Bonsai forest, Views of Palawan
BACKGROUND
Another notable mountain in Palawan, regarded as Philippine hiking's "last frontier, is Mt. Thumbpeak, or simply Thumb Peak, in Puerto Princesa. This 1,296 MASL-mountain is visible even from the city proper, and its etymology is obvious, as you can see that its peak is shaped like a fist, with its 'thumb' jutting upwards, serving as the very summit of the mountain. Even during the Spanish times, the mountain was known as Pico de Pulgar, which is, literally, 'Thumb's Peak'.
Thumbpeak is located within the Iwahig Penal Colony, one of the largest penal farms in the world and one of the most colorful places in Palawan. A permit from Iwahig authorities is needed for a climb, which requires 2-3 days. The initial leg requires seven to nine river crossings, which can be treacherous, and even impossible, in inclement weather. Past the river, a cave serves as the usual campsite; a steeper trail passing by dense forest follows. Here, aggressive limatik can make the hike interesting for climbers. The forest takes around 3 hours to negotiate.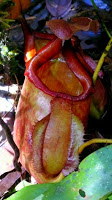 Beyond it, the trees become stunted, and interesting flora emerge, most notably the tropical pitcher plant Nepenthes deaniana, which is found only at the summit of Thumbpeak, at elevations higher than 1100 MASL (see picture). Some bouldering is required at the top, reminiscent of, but of a lesser extent compared to, the assault of Palawan's high mountains such as Mt. Mantalingajan and Mt. Victoria.
The summit of Thumbpeak is very rewarding: there is a view of South China Sea and Sulu Sea, divided by the narrow island of Palawan; in Palawan itself, to the north one can see Mt. St. Paul, Cleopatra's Needle, Mt. Airi, Mt. Beaufort, and many other peaks, some nameless; to the south one can see the high mountains of Palawan's central spine, which will culminate with Mt. Victoria, Sultan Peak, Mt. Gantung, and finally Mt. Mantalingajan, although these are no longer visible. To the east, one can see Puerto Princesa surrounded by two bays, the northern one of which is the famed Honda Bay, with its islands. It is truly a tantalizing sight!
Considering its proximity to Puerto Princesa City, it is a very accessible, quite challenging, and very beautiful hiking destination in Palawan!
ITINERARY
Day 1
1000 Travel to Iwahig Penal Colony from PPC
1130 Lunch at jumpoff
1230 Start trekking
1400 Start river crossing
1700 Arrival at the Cave. Set up camp
1800 Dinner / socials
Day 2
0600 Breakfast
0730 Commence summit assault
1100 Arrival at the summit / Lunch / rest
1230 Head down to the Cave
1600 Back at the Cave
1800 Dinner / socials
Day 3*
0700 Breakfast / break camp
0800 Start descent
1000 End of river crossing
1200 Back at Iwahig Penal Colony; swim at pool
1300 Back in Puerto Princesa
*Take note that if one wakes up early on Day 2, it is possible to compress Days 2-3 into just one day, thereby creating a 2-day itinerary.
SPECIAL CONCERNS
Transportation. There is a jeepney service from Puerto Princesa to Iwahig; but this is not regular. For larger groups, hiring a jeepney may be a better option.
Permits and guides. A permit is required, and guides are recommended. Berto and Bito, the father-and-son guiding duo, are avaialble. One may seek the help of Jasper Camacho (you can search him in Facebook) for assistance. He can help you not only with the permits, but also in the securing of guides (it is his personal advocacy to promote the mountain and provide livelihood for the guides).
Climbing notes. Do follow the advice of your guides regarding the river crossings, which can turn treacherous. Prepare also for the limatik in the forest which are more aggressive than those of Mt. Makiling.
Health and safety. For Palawan hiking, we recommend prophylaxis for malaria. One tablet once a week of Mefloquine (Lariam S) is suggested, as well as vigorous application of insect repellent. The Iwahig Penal Colony, and the mountain, is quite safe and is free from any insurgency or security issues.
THUMB PEAK PICTURES
The blogger at the summit of Mt. Thumbpeak, May 24, 2011.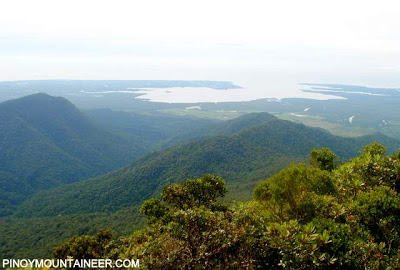 View of Puerto Princesa from the summit of Thumb Peak.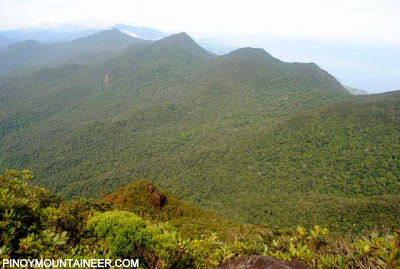 Some of the nearby mountains as viewed from the summit of Thumb Peak.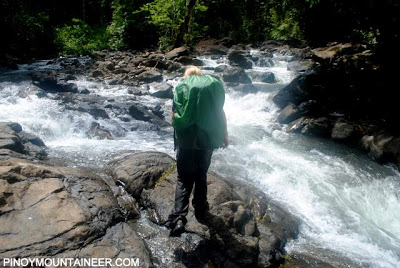 The river crossing is the first, and potentially the most treacherous, part of the trek.
TRIVIA
PinoyMountaineer acknowledges Jasper Camacho for helping him in his climb up Thumb Peak, and therefore making this article possible.