Hiking matters #185: A traverse of scenic Mt. Lantad in Bato, Catanduanes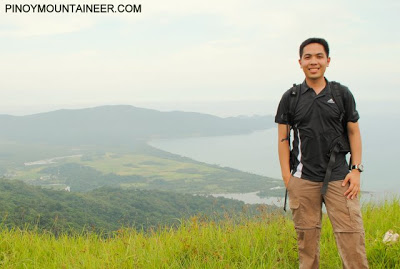 VIRAC, CATANDUANES – My flight from Manila to Virac was blessed with stunning aerial views of the Bicol mountains. Upon arriving here in Virac I met with hiking friend Richard Visco, who I met in Guiting-Guiting way back in 2008. I then headed to my room to catch up with sleep.
Hours later, I found myself with local hikers led by Jay Tayamora of GREENCAT Mountaineers and Michael Angelo Zafe. They would accompany me on a dayhike up Mt. Lantad in Bato, Catanduanes. With us were Jay's cousin, photographer Frank Lopez, and teenagers Mon-Mon and Mark Jonh.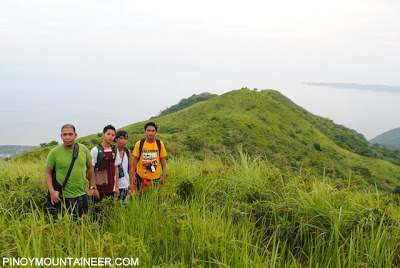 We rode motorcycles to the jumpoff: Brgy. Cabugao in Bato. Quite interestingly, the jumpoff is the local cemetery! We walked past the graveyard and entered a trail of woodlands similar to those of oher Bicol mountains. It was around 1400H and it was very humid — AccuWeather suggested a forecast of 40 degrees C (as perceived temperature); I would have believed a higher estimate.
But Jay's assurance that as we go higher, it will feel better turned out to be very accurate. Once we stepped into the grassy, rolling hills that mark the summit of Lantad, the views were very nice, and winds made us feel much better. A series of peaks reached the range of 500 MASL, and I was reminded of Mt. Gulugod-Baboy in Batangas.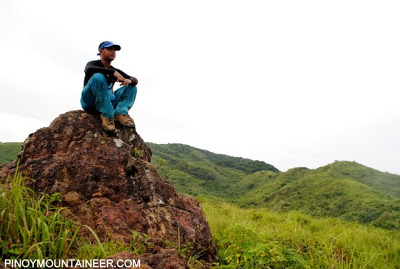 A piece of rock sat prominently on one of the peaks, and they told me that they referred to it as "Little Apo", perhaps in reference to Apo's Boulders. They also likened the grassland slopes to those of Mt. Pulag's summit. Of course, many a mountain has been christened "Little Pulag", which points, I think, to the fact that Philippine mountains share a lot of similarity.
From the peaks, we proceeded to descent to Brgy. Guinobatan, in an attempt to complete the traverse. Along the way, Jay spoke of Mt. Lantad as GREENCAT's "mother mountain", further explaining that the "cat" at the end of their club's name has a double meaning: aside from referring to Catanduanes, it also pertains to an actual wildcat that was once a common presence in the mountain.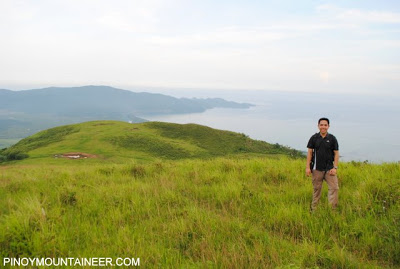 Meanwhile, I enjoyed the views on the way down. Particularly, I enjoyed the sight of the coastline of Catanduanes, as it contrasts gracefully with the green slopes. From time to time, some carabaos would appear, sometimes in pairs, sometimes as a family. Birds, too, circled the slopes, lending a pristine quality to the hike.
After the grassland, we came into a woodland again, and we were less than an hour from the exit point when a final surprise came upon us: a live green snake! It was a green viper or dahong palay – a poisonous snake. It reminded me of my previous encounters with snakes, and of course my companions were used to these creatures as well. We did not provoke it and walked stealthily down the trail. By 1800H, or four hours after we started hiking, we were back on the road. A postclimb celebration ensued in Sea Breeze, in Virac. Cheers!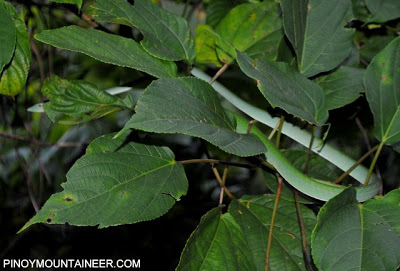 PinoyMountaineer thanks Mac Zafe and Jay Tayamora of the GREENCAT Mountaineers for guiding us on this hike up Mt. Lantad, as well as our other companions in the climb. Greetings also to our friend Richard Visco who is staying now in Virac. I will be posting an itinerary of Mt. Lantad soon!