Makiling Traverse Trail Run on Nov 26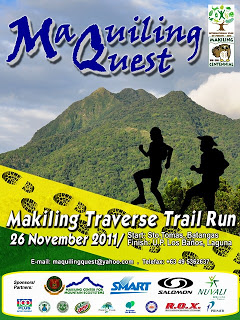 The Makiling Center for Mountain Ecosystems, University of the Philippines Los Baños (UPLB) is organizing its annual Maquiling Quest on 26 November 2011, Saturday. This year's race will take the form of forest trail running in celebration of the United Nations' International Year of Forests 2011.
Two-person teams will converge at the municipal hall of Sto. Tomas, Batangas as early as 4:00 am and will race through the 20 km route traversing the mountain's summit. The finish line is at the Makiling Botanic Gardens, College of Forestry and Natural Resources, U.P. Los Baños, Laguna.
Now on its 10th year, Maquiling Quest aims to develop and promote adventure sports and ecotourism while enhancing public awareness and conservation stewardship of the legendary mountain. It expects to attract trail runners and mountaineers from all over the country.
MCME has partnered with Smart Communications, Salomon Sports, Nuvali- Ayala Land, and other companies and institutions in holding the event. Cash prizes plus sponsors' gift certificates and products are at stake, with the champion getting P20,000 cash.
Some mechanics:
1. Maquiling Quest 2011 is open to teams of two members who are at least 18 years old.
2. Participants are expected to behave with fairness and honesty and shall have a sporting attitude and a spirit of friendship.
3. Registration fee is P2,000 per team if paid before 20 November 2011 or P2,200 if paid between 21-25 November 2011. The fee is inclusive of race kits and shirts. Payments
may be deposited to LandBank U.P.Los Baños Current Account No.1895-0126-76. Fax or e-mail deposit slip with registration form.
4. Registration constitutes complete acceptance of the race rules and mechanics. The organizer reserves the right to accept or reject participants.
5. Participants must sign waiver of liability before the race start.
6. The deadline for submission of duly completed registration forms and signed waiver is set on 12:01 am of 25 November 2011
For further information, contact the event coordinators by telefax: 049 536 2637 or
e-mail: maquilingquest@yahoo.com.