Hiking matters #262: Trekking in Taipei's Four Beasts Mountain (四獸山) from Elephant Mountain (象山) to Jiuwufeng (九五峯)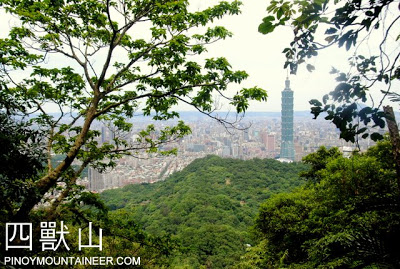 TAIPEI, TAIWAN – I am about to conclude my fourth hiking trip in Taiwan, very happy after having done three dayhikes within the Taipei area, the first two with Agot Isidro, and the final one, the Four Beasts Mountain (四獸山), by myself. This final hike was the closest to the city proper, and was the shortest by elevation, but it did not disappoint.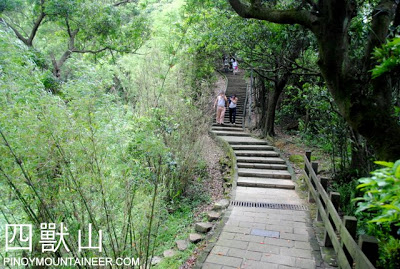 From MRT Houshanpi Station, I walked to Fude Street, guided by maps that I packed into my iPad. The Four Beasts Mountain is actually a small range of hills named after animals, perhaps owing to their contours, called Elephant Mountain, Tiger Mountain, Leopard Mountain, and Lion Mountain. Elephant Mountain (象山) is the most famous, and it is here where I began my trek.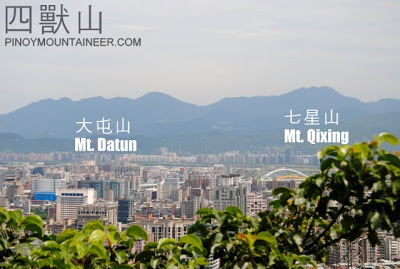 I was immediately greeted by the mountains of Yangmingshan National Park, which have become very familiar to me in the past few days. Guanyin Mountain, which we had just climbed the day before, was also prominent, and of course, Taipei 101 – this time, much closer than when we were at Qixing, or Guanyin.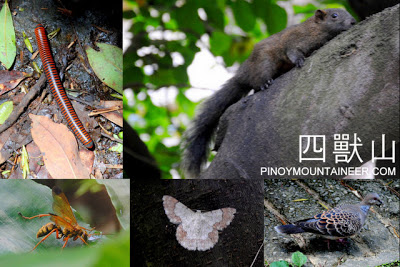 Further delighting me in the trail were sightings of fauna that attest to how well-maintained the forest preserve is. I'm sure birdwatchers would have found the place interesting as well; I saw many species of different colors! I think it also helped that I took the smaller trails, as suggested by this excellent article by Stu Dawson in his great blog.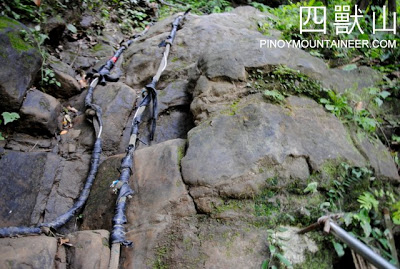 Stu's blog already showed pictures of it, but I was still pleasantly surprised to see some roped segments in a crazy ascent up Jiuwufeng (九五峯), which is located on a ridgeline above the Four Beasts. As the highest point in the trail system, I did not want to miss that one…and the extra challenge of a difficult trail was a great bonus!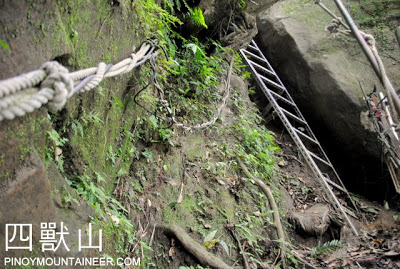 Take note, however, that it is possible to access this peak by a cement path. But I hate those cement paths! They're boring and slippery! I rejoiced at the opportunity to finally set foot on actual soil. Unfortunately, it lasted only for around 20 minutes; very soon I was back in the main trail — and Jiuwufeng, also known as 9-5 Peak, was at hand.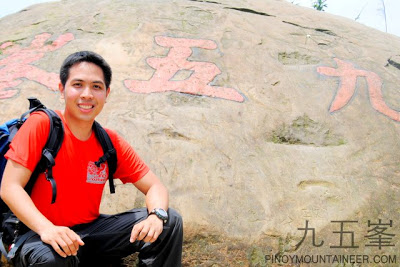 There was a giant stone that marked the summit, and from here, one can have a splendid view of (surprise!) Taipei 101. I did not pass up the opportunity to traverse from this peak, this time towards Tiger Mountain.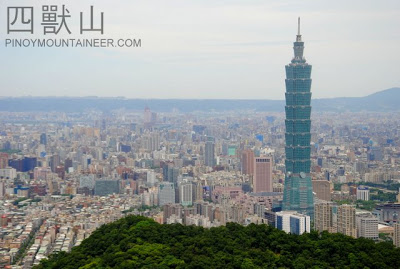 After less than an hour, I found myself at a temple which marked the end of the trail. The Four Beasts area is actually full of interconnecting trails that can keep you busy for a whole weekend, but I left the mountains very content and happy. Three dayhikes done! I will definitely be back in Taiwan for more mountains. Jade Mountain and Cilai Ridge, wait for me!