Mountain News: Drowning accident in Flatrocks, Mt. Makiling, claims lives of two UPLB students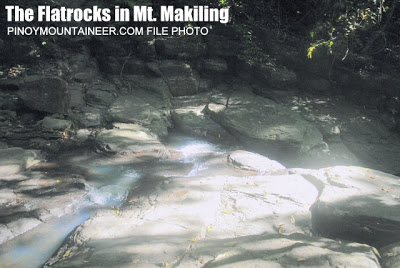 UPDATE (12/7/12 0911H): Mt. Makiling remains open on both sides (Sto. Tomas and Los Banos).
We have been informed by the members of the UPLB community that two UP Los Banos students, Enzo Valdez and Kevin Lagodon, were found dead last night in the Flatrocks, Mt. Makiling, in what is initially believed by the authorities to be a "drowning accident", pending further investigation.

The pair was said to have gone hiking last Sunday (December 2, 2012) and went missing since then. It is unclear to us whether they hiked to Peak 2 or Mudsprings, or only in the Flatrocks area. They were found in the Flatrocks, part of the Molawin Creek which is accessible by a 400-meter trail from the summit trail to Peak 2 just a few hundred meters past the trailhead.

Growing up at the College of Forestry where Flatrocks is located, my childhood friends and I were very familiar with the place: it is very relaxing to go there, have a picnic or just hang out in the flat rocks, or go upstream to explore the pools of water and rock formations. Its beauty and tranquility, however, can be deceptive. Since I was very young I have heard stories and accounts of students who died in the area. These deaths were usually attributed to flashfloods or sudden changes in the water level. In this accident, it is unclear why and how the drowning happened, although we are very much interested to find out the conclusions of the investigation, for the safety of future hikers.
I offer my prayers and condolence to the families of Kevin and Enzo, with the hope that they will find comfort in this time of grief, and with the hope that accidents like this will never happen in Mt. Makiling.