Nine visually-impaired first-time hikers reach Pico de Loro summit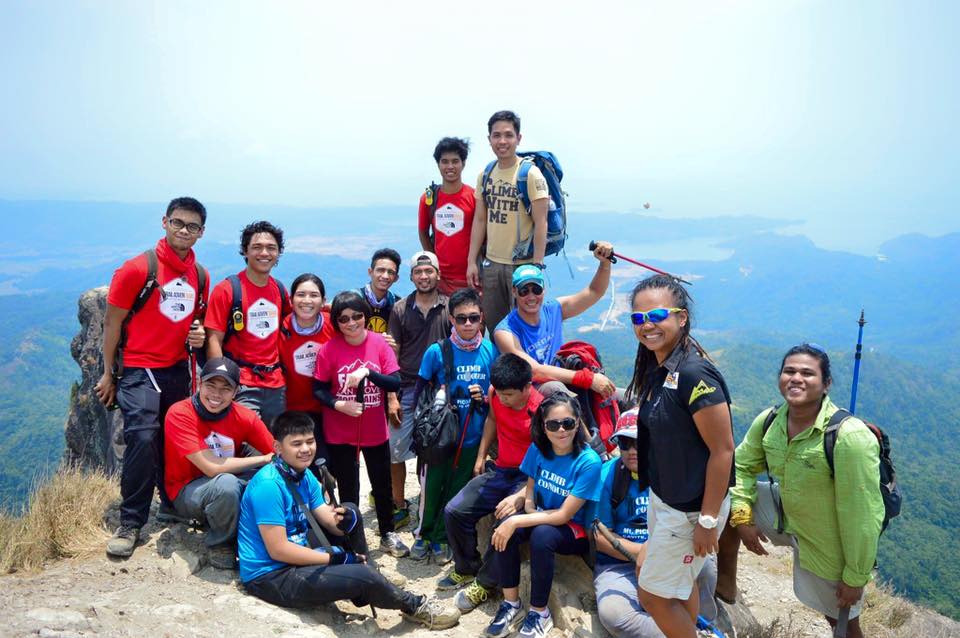 "They have lost their sight, but not their vision"
On April 28, 2016, nine visually-impaired first-time hikers reached the summit of Pico de Loro, each of them accompanied by a volunteer mountaineer-guide, in an event called "Zero Visibility: Sharing the Vision" organized by Pinoy Mountaineer and Nomad Terra Crawlers together with the Parent Advocates of Visually-Impaired Children (PAVIC), Resources for the Blind, Inc. (RBI), Trail Adventours, and individual volunteers.
The VIs (the preferred term for persons with visual impairment used by the participants themselves and their parents) who participated in the hike were Stephen Louel Egamin, Mark Roland B. Parcon, Ma. Angelika F. Torres, Jerald Polintan, JC Lee, Gerry Gonzalo (who had previously hiked Mt. Batulao and Mt. Ulap), Brandon Ricafort, and Ms. Baby Padasas of RBI. A majority of the participants are teens who have been blind since birth. Their parents and guardians also joined the activity. Volunteer mountaineers included Ramel Ng, Carlo Nicolas, Brent Tan, Daryl Comagon, Kharmey Hidalgo, Peter de Guzman III, Cathy Hermogenes, JC Villanueva, Miguel Dalisay, Adelle Cortado, and Pinoy Mountaineer Gideon Lasco, who initiated the activity together with Simon Adriano who will produce a documentary out of the activity.
Contrary to popular belief, outdoor recreation is actually possible for people with visual impairment. In terms of guiding, all it takes as a willing and competent guide with a sensitivity to the VI's circumstances, and in terms of the VIs enjoying the experience, there is actually more to the mountain than the view – there are different sounds in the forests; different sensations of the elements, and of course, there is the challenge of hiking itself. This, and more, was what the activity set out to prove.
Blind climbing – or hiking – has had precedents in other countries: blind mountaineer Erik Weihenmayer made history by reaching Mt. Everest in 2001 – but this activity may be the first in the Philippines. Dr. Allan Larona, an ophthalmologist who joined the hike, commented that "this kind of activity brings a different kind of healing – one that uplifts and empowers." He added that it has a great potential in helping raise awareness about the causes of blindness as well as various issues that persons with blindness face in society.
After the hike, a simple ceremony at the trailhead in Maragondon, Cavite was held, in which PAVIC president Leo Lee thanked everyone for the successful event. saying that "There is no greater disability in society than the inability to look beyond people's disabilities and focus . For his part, Gideon Lasco said that "Above all, this activity showed to us the power of the human spirit to overcome any limitations." All the parties agreed to continue the initiative in the future.