Mt. Paliparan (562+) in Tanay, Rizal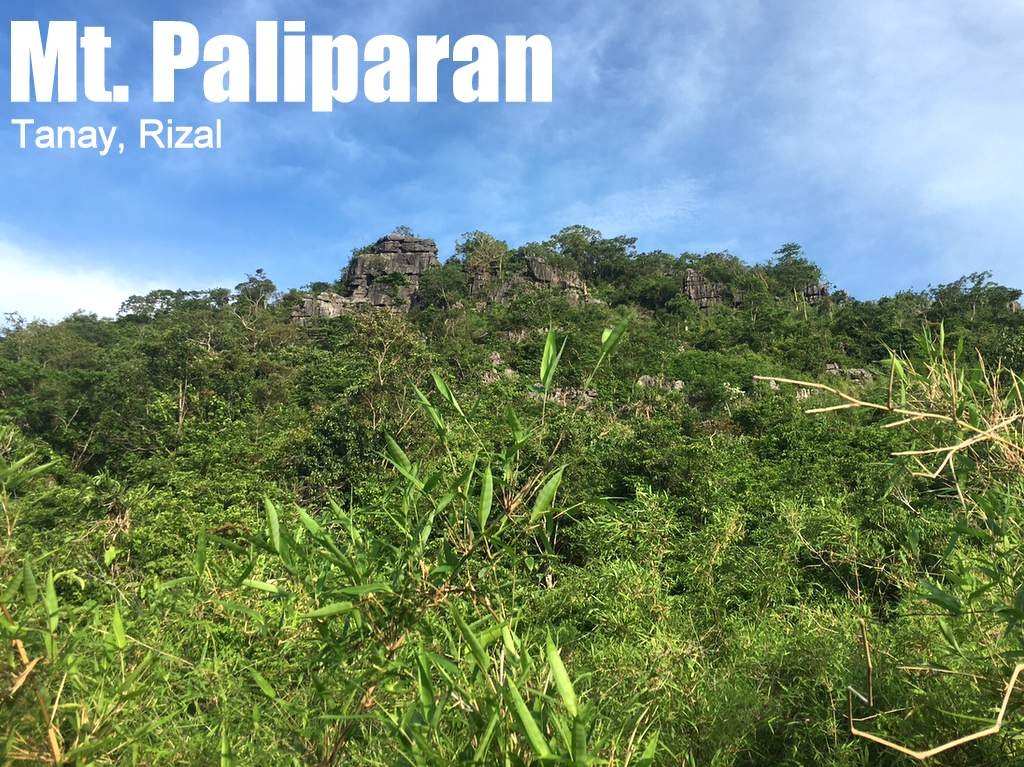 MT. PALIPARAN
Tanay, Rizal
Trailhead: Barangay Hall, Brgy. Cuyambay, Tanay
LLA: 562 MASL (Peak 2 / "summit")
Days required / Hours to summit: 1 day / 2.5-4 hours
Specs: Minor climb, Difficulty 4/9 +R (with rock precaution), Trail class 1-5
Features: Rock formations, scenic views, waterfalls, Dumagat village
Article history: Created 29 May 2016 by Gideon Lasco
BACKGROUND
Another hiking destination in Rizal characterized by rocky, limestone prominences is Mt. Paliparan in Brgy. Cuyambay, Tanay, Rizal. Named as such by local Dumagats because it once served as a venue for kite-flying contests by their youths, this destination was just opened to hiking activities in April 2016. Passing through woodlands and occasional grassy slopes, the trail is not yet well-established but is gentle and gradual, save for the occasional scrambling up the rocks that require some caution and care.
Highlights of the hike include scenic views of Laguna de Bay and the Pililla wind turbines, rock formations, the impressive Tungtong Falls, and Tuoy – a nearby Dumagat village. Though not as spectacular as the Sierra Madre-facing (i.e. east-facing) mountains such as Mt. Irid or Mt. Lubog, the mountain has its own unique rewards. Easy enough to do in a day, it is another recommended dayhike from Manila.
ITINERARY
0400 Take jeep from Sampaloc to Cogeo
0500 ETA Cogeo. Take jeep to Cuyambay junction
0615 ETA Cuyambay. Take habal-habal to Brgy. Hall
0630 ETA Barangay Hall. Register / Secure guides
0700 Start trekking
0930 ETA viewpoint / Peak 1
1030 ETA Peak 2. Star
1200 Lunch at Tuoy village
1300 Head to Tungtong waterfalls
1500 ETA Tungtong waterfalls.
1530 Resume trek
1600 Back in barangay hall. Tidy up
1700 Return to Manila
2000 ETA Manila

PRACTICALITIES: MT. PALIPARAN
Transportation
Public (1) Jeep, Sampaloc to Cogeo [P20, 30-60 mins]
(2) Jeep, Cogeo to Cuyambay [P48, 60-80 mins]
(3) Habal-habal, Cuyambay junction to Brgy. Hall [P25/5 mins]Note: Jeepney travel times are highly variable due to the traffic, but you are likely to get the lower end if you leave very early.

Private: Marcos Highway > Brgy. Cuyambay – turn right – follow the road until you reach the barangay hall

Registration
Logbook at trailhead; P20 fee
Guides
Available, required: P500/day
Contact numbers
Jeep rental (Rene) – 09127570867
Brgy. Cuyambay –  09124795185
Van rental (from Manila) – 09332810163
Campsites and waypoints ⛺
Campsites:
(1) Potentially at Tuoy village
Water sources 🚰
At the Tuoy village junction and thereafter along the stream leading to the waterfalls
Cellphone signal 📶
Present in most parts of the trails.
River crossings
Some trekking on or along a stream
Roped segments / Technical parts
None but beginners may benefit from a backup rope
Limatik
None
Lipa
None
Rattan
None
Hiking notes
Exercise precaution on rocky parts up the summit, the viewpoint, and the waterfalls.
Sidetrips
Nagpatong Rock Formation, a one-hour hike from Brgy. Cuyambay. Masungi Georeserve en route (reservation required).
Alternate trails
Road that connects to Tuoy village
Dayhikable
Yes (4-7 hours to complete the whole circuit)
Facilities at jumpoff
(+) Sari-sari stores
(+) Restrooms / paid wash-up places
(+) Parking
Estimated budget
P400-500 from Manila
MT. PALIPARAN PICTURES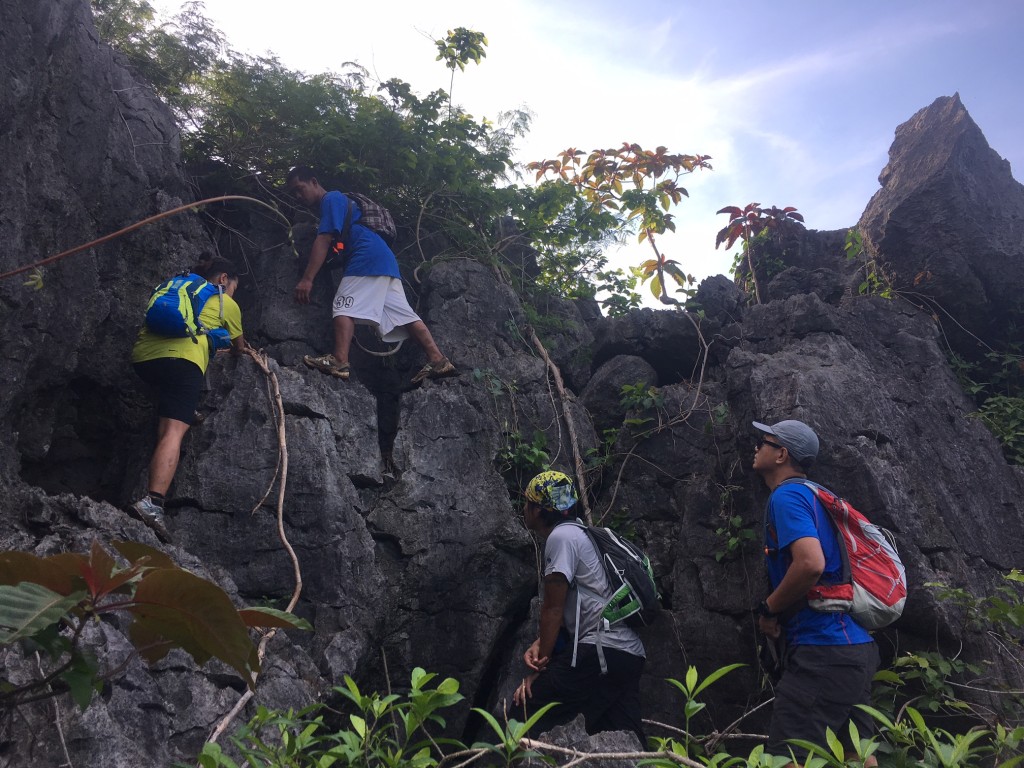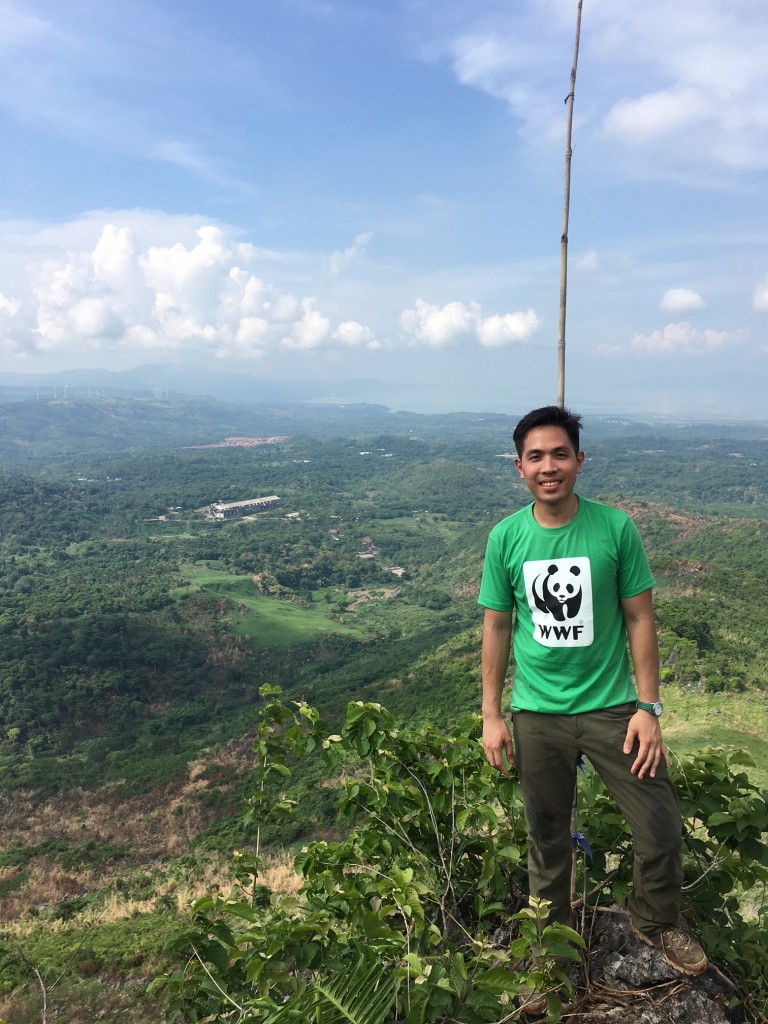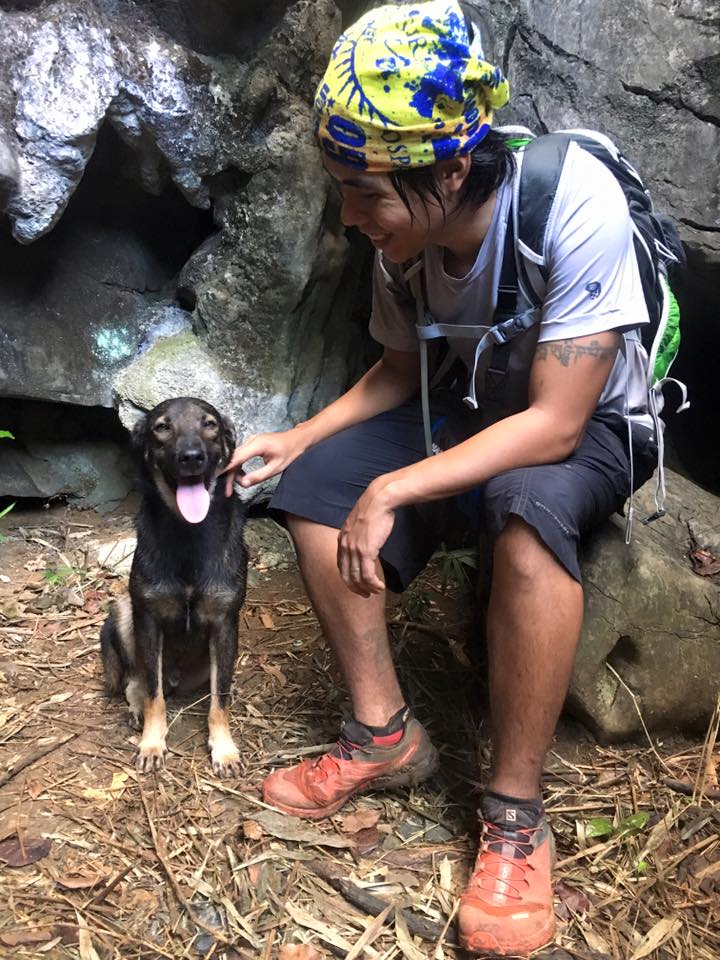 TRIVIA
Ogag, a guide dog in Mt. Paliparan, has been featured in Pinoy Mountaineer Facebook page and is one of the attractions, by himself, of the mountain as of June 2016. He accompanies all groups of hikers and was part of the initial exploration and trailblazing.