MountainTalk #6: Art Valdez, the leader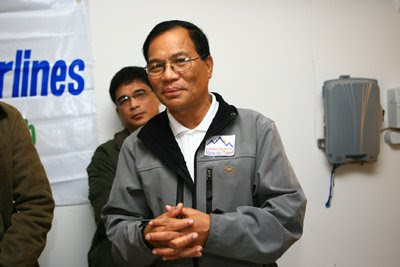 He first dreamed of Mt. Everest in the 1970s – and made it happen thirty years later. And yet, it was not unexpected that the man behind our nation's great mountaineering feat would have to be Sir Art Valdez, for since the early days of mountaineering he had always been organizing and leading climbs, from Guiting-Guiting and Kinabalu in the early 80s to Denali and Everest in this decade, leading the First Philippine Mount Everest Expedition (FPMEE) in a sweeping, five-year project that took then to mountains of three continents. Even as we speak I'm sure he is already looking beyond to embark on the next momentous adventure. Today, Art Valdez generously brought me to the base camp of the Philippine Everest Team in Makati, which they fondly call "Camp Mt. Kanlaon" – both Sir Art and his longtime mountaineering colleague, Sir Fred Jamili hail from Negros (and both were past presidents of the MFPI). Sir Fred, whom I already met before, as well as Karina was there also. Here are excerpts from our conversation:
When did you begin mountain climbing?
It was through Scouting that I learned about the outdoors, and developed an interest in the mountains. Being a Boy Scout back then was really a big deal: we attended jamborees, did camping trips and learned much of the outdoor skills needed [for mountaineering]. Climbing mountains came much later though; My first climb was Kanlaon at age 28.
How did you meet with the other pioneers?
Where else? In the mountains! I met Edwin Gatia and Fred Jamili in Mt. Kanlaon and we begun to discuss future expeditions. In Negros there were many others such as Mayo Monteza after whom Mayo's Peak was named. John Fortes of PAL was of course very instrumental in mobilizing mountaineers at that time (Read about John Fortes in MountainTalk #1)
What were the memorable expeditions?
For one, there was the G2 expedition in 1982. No one has scaled the mountain then; we just relied on topographic maps. And it took us so long – an entire week – because there was no trail; we were just hacking our way up, blazing the first trail. Sometimes we would just progress for sixty meters in one day and we had to camp anew. (See Edwin Gatia's account of the G2 expedition in MountainTalk #2) We embarked for Mayon in 1979, but two typhoons got in our way. Still, we persevered. The ; we had to tear apart the raincoat of a foreigner who joined us and make the fragments into trail signs!
And of course, our first international expedition was a Mt. Kinabalu climb in 1983. From then on we began aiming for Everest.
Which were the popular mountains in the 1980s?
All the others, of course, we explored: Mt. Apo, Mt. Tabayoc… I think we were the first ones to climb Tabayoc. Then of course there was Mayon, Madjaas, and the rest. There were no itineraries yet for these peaks, so we relied on good ol' map and compass.
Karina Dayondon: How was Pulag back then?
Very different from now. For the Ambangeg trail, we had to start all the way from the Visitors' Center all the way up!
You were the 2nd president of the MFPI. Was mountaineering any different during your term compared to today?
There was no concept of BMC then – it was just an informal thing; a freespirited activity. Mountaineering was not as popular as it is now, in fact, it was quite unfashionable to be a mountaineer; we were looked at as kinda weird characters. But schools gradually developed interest and we've come now to a point when almost everywhere there's a mountaineering club. We helped developed clubs such as MESAU and AMCI.
Let's talk about antique camping equipment…
The tents in the tents in the early 80s were still made of nylon…There was little of he outdoor technology of today. Pag gabi, naka-upo ka na lang, parang may lake na sa loob ng tent mo! That was the reality at that time!
And the environment?
80s palang, i saw the receding forest lines. cutting down of trees. But it was a very good thing that G2 was preserved through the efforts of European countries.
Moving beyond Everest, what do you think are the prospects of mountaineering in the future?
Very good. A lot of clubs are active, and other Filipinos will definitely follow the footsteps of our Everest climbers (see MountainTalk #3 with Romi Garduce; MountainTalk #4 with Karina Dayondon).
What would be your advice to the new generation of mountaineers?
The basics: You have to be physically fit and technically knowledgeable. And importantly, bear in mind that mountaineering is a way of life. It builds up character, discipline, and the passion… a mountaineer will not stop until he reaches the summit…
It need not be a summit; it may be a career, a project, a business, or any endeavor. But the same principle applies…a mountaineer will always have the passion to succeed.
Such passion has led to the success of so many expeditions in the past – and we have confidence that with Sir Art's leadership, we can look forward to many more successes in the future.
MountainTalk: Blogger Gideon Lasco's conversations with prominent names in the Philippine mountaineering scene.