Hiking matters #48: Exploring the barely-explored Peak 1 of Makiling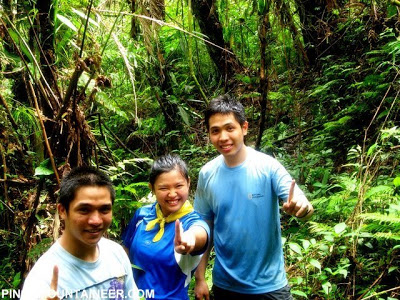 LOS BANOS, LAGUNA – Recently I reported about Makiling's reopening, and last weekend I decided to give it a try via the regular UPLB Trail. I was in for a big surprise, that is, the existence of a trail to Peak 1! Yes, guys, there is now a trail leading to Peak 1, previously not part of any trail system. Even the forest rangers of the Makiling Forest Reserve say that the Peak 1 trail has only begun to exist this year; they had to make way through rivers and raw forest to climb Peak 1 in the past. Some hikers have climbed Peak 1 too – so maybe they can share more details of this trail's emergence.
To access Peak 1, just take the regular UPLB trail until you reach the grassland campsite. Just beyond this is a sign that reads "Wilderness Zone". No more than 100m from this point is a dead river wherein the trail branches into two. Take the left, steep trail (SW). At first, we thought this was just a spin-off of the Peak 2 trail but the environments were clearly different. The flora was more untamed; it was very much like Cristobal's far side, replete with rattan, lipa, y otros diablos. Steep is the trail and muddy; it is not at all like the Peak 2 trail with its tall trees and mossy environs.
After 2.5 hours from the Nursery, we reached Peak 1. Unlike its counterpart Peak 2, the summit was totally unremarkable. The only view was that of the landslides of the Sipit (Sto.Tomas) trail and glimpses of Laguna de Bay in the final leg; the flora is not at all like the moss-covered grandeur of Peak 2; there were occassional pakpaklawin and lots of noxious lipa (nettles). Yet, this is still Peak 1 of Makiling, the counterpart of the famous Peak 2 and an integral, almost equal, part of its contour.
Once again, my friend and namesake Gideon Sarreal joined me in this trip with his friend Lalaine (Thanks guys!) I actually intended to just rest in our house in Los Banos, but the mountain's gravity was too strong and I can't hold myself back. In the end, it was a good thing.
So now I have completed all three peaks of Makiling: Peak 2 which I first reached when I was 9 years old; Peak 3 when I did Makiling via the Sto. Tomas (Sipit) Trail, and finally, Peak 1 today.