Hiking matters #159: Mt. Mayon dayhike via the "new" Torel trail in Bacacay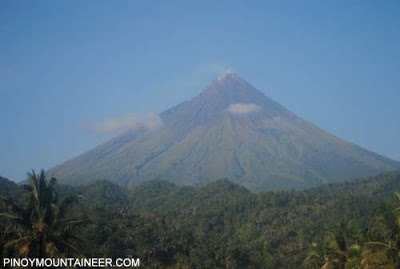 The jurisdiction and discovery of the new trail, or Torel trail, or "Apparition trail" might be in dispute, so it will suffice to say that we thank all the Bicol mountaineers and local officials behind the establishment and maintenance of the Bacacay route up Mt. Mayon, which Iron Lady Jo Steven and I dayhiked last April 11, 2011. Considering that I had just done Mayon via the "old trail" from April 9-10, 2011, this marks the first time that I climbed the same mountain twice in a row – albeit using different trails. Kap. Bigol of Brgy. Bonga accommodated us, and JR of Alinao Mountaineers, our Malinao guide and now friend, rejoined us.
The trail was very nice, and, truth be told, holds the same grandeur as Mt. Apo. Jo and I were so enamored with the trail, comparing it to the trail down Lake Venado from Mt. Apo's summit, among other beautiful places. Instead of the immediate lava flows of the other day, I was actually passing by easy meadows on the way up the crater of Mt. Mayon! And, behind me were spectacular views of Albay.
The first landmark was Camp 1, which we reached in a matter of 1 hr 30 mins. It was a wide meadow, perfect as a campsite. From there, the trails became steep and the flora takes on a more volcanic feel. 1 hour after, we were on Camp 2, where the lava flows can finally be seen. At this point we were already around 1400 MASL – at par with the Camp 2 in the Old Trail.
Alas, however, rain fell upon us just as we were having lunch, causing the lava flows to be very slippery. If it rains too hard, streams of water will form in the lava flow surface, imperiling us. Thus, while we decided to push on, we did so very cautiously. We chose the paths we took carefully, and reassessed, every 100 meters, if we can go ahead. Fortunately,we were able to get very close to the highest point reachable from the trail. When we turned back we were close to 1800 MASL. There were no views, not even of the crater, but we had the satisfaction of doing a Mayon dayhike and enjoying the trail.
By dinnertime, we were back in Legazpi City, foodtripping again! Thank you JR of Alinao Mountaineers, TARUM, George Cordovilla, and Kap. Bigol for helping us!