Hiking matters #278: Mt. Isarog via Patag-Patag Trail dayhike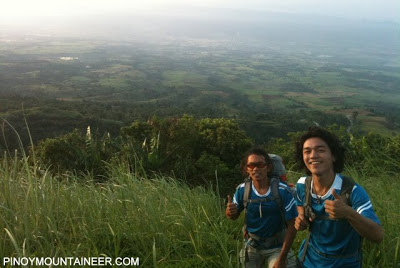 The rainy season has undeniably begun, and although there are blessed days when the sun unexpectedly shows up. hikers must brace for downpours, and less-than-cheerful photos. Still, the rainy season is not a reason to stop hiking, and after our Mt. Bulusan climb, Coby Sarreal, Koi Grey, and I decided to head up to Camarines Sur from Sorsogon to climb Mt. Isarog via Patag-Patag.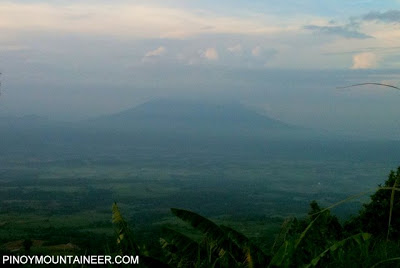 Assisting us, once more, was the very friendly Jojo Villareal of Kadlagan Outdoor Shop, where I always drop by whenever I happen to be around. So after a restful interim day in Naga City, we woke up very early the next day to catch one of the first trips to Hanawan, Ocampo, and from there, we took a habal-habal to the village in Consocep Mountain Resort, where we looked for Tito Rogelio.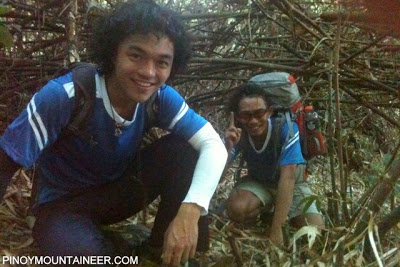 It was already 0500H when we arrived, and he promptly welcomed us and said that his son Roy will guide us. We started trekking at 0535H. At first, the skies were clear and we saw a glimpse of Mt. Asog and the plains surrounding Mt. Isarog. The trail was immediately steep and slippery, passing by a mix of cogon, bamboo, and banana slopes, and quite soon, the skies had turned cloudy.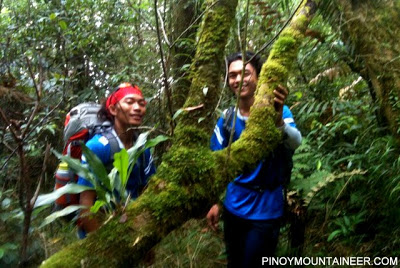 We reached Camp 1 after 100 minutes of trekking. Beyond this point, we were already passing through forests akin to those of other Bicol mountains, such as Mt. Malinao and Mt. Bulusan. A little before Camp 1 and all the way to Camp 2 were the three menaces of the forest: limatik (blood leeches), lipa (poison ivy), and rattan (a very thorny genera of palm with particularly offending spines or thorny whips).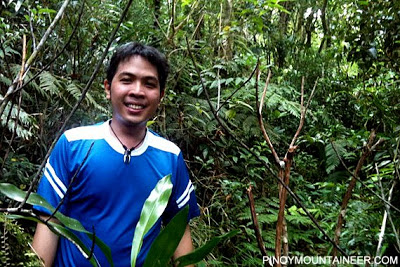 We reached Camp 2 an hour after Camp 1, and we reached the Patag-Patag Peak (which is part of the summit/crater rim) at 1020H, or just after 4 hours and 40 minutes of trekking! At first, it was raining and we were quite cold since we were damp, but fortunately, the rains stopped for a while, and there even a bit of a clearing, giving us the chance to see the other peaks of the crater rim, the Pacific Ocean, and a faint Mt. Asog.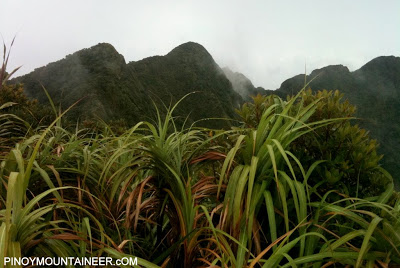 On the way down, I was comparing the Mt. Isarog dayhike versus a Maktrav dayhike, and I would say that they are of the same difficulty, with Isarog probably a bit tougher, because the Maktrav dayhike has an easier trail going down. Still, I am glad to have discovered another challenging dayhike, and I am also glad that so far, my postulate that all Bicol mountains can be dayhiked has held true.
By 1600H we were back in Hanawan, munching on some street food as we waited for the bus to Naga. Then from Naga, after a celebratory dinner in SM, we took a night bus back to Manila. With Bulusan and Isarog done in one trip, I can only thank God for another memorable adventure in Bicol!
BICOL ADVENTURE 2012: BULUSAN AND ISAROG
Hiking matters #275: Mt. Bulusan, Cradle of Beauty Day 1
Hiking matters #276: Mt. Bulusan, Cradle of Beauty Day 2
Hiking matters #277: The wonderful fauna of Mt. Bulusan
Hiking matters #278: A dayhike of Mt. Isarog via Patag-Patag