Hiking matters #5: The socials at Tinongdan / Intermission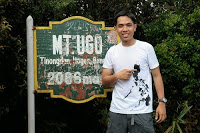 BAGUIO CITY – I just arrived here from an exhilarating, 2-day traverse of Mt. Ugu taking the Kayapa trail up and descending to Itogon. The pines and the floral array gave a serene atmosphere throughout the climb; and since we were blessed with good weather, the trails were actually relaxing. Nobody in our three-man team (Julian and David from the UP Med Outdoor Society) minded the long paths as they were even, and almost always there was view somewhere: Mt. Palali (E) and Mt. Sto. Tomas (W) both oriented us; and beyond Domolpos there was already Mt. Timbak (NW) and a cloudcapped Mt. Pulag (N).
The first challenge was how to go to Kayapa without renting a vehicle, after all there's just three of us. Fortunately, there's a bus from Bambang to Baguio that passes by Kayapa. It's just a one hour ride, costing 50 pesos. Then from Bambang we were met by our guide, Manuel, who ebulliently described last week's Mt. Ugo Summer Climb. Apparently, its really the big event of the year. The trail to Indupit was moderately steep, but manageable, and very beautiful. After 2.5 hours we were already in Indupit, and proceeding to Domolpos was no problem since the weather was great: the trails were unbelievably even all throughout. We took it easy.
In Domolpos, where we spent the night, we were accommodated by the kindred brothers and sisters of Mt. Ugo Baptist Church, led by their good pastor Elmer. We joined their fellowship and they also gave us a place to stay. It was a very cold night even though Domolpos in my GPS was only 1651 MASL.
On our next day we woke up very early for the summit (2170 MASL at my GPS). The trail was quite steep, and there was a brief, mossy forest portion. We reached the summit at 0800 H, took pictures with the signage, and then proceeded to Tinongdan. My friends were right in comparing the other side of Ugu with Akiki; but we were descending on great weather so it wasn't a problem at all; especially with the pine trees becoming much grander on this side. We arranged with Ma'am Liza for transportation from Brgy. Tinongdan to Baguio (we'll just pay the gas). We were already arguing on where's the best pizza place to dine in Baguio.
But when we arrived at Tinongdan, everyone was drunk! There was a party going on, and although the kind and hospitable officials offered to take us, they were obviously too tipsy to drive the winding Benguet roads and so we just decided to join the fun. They served kinilaw na kambing – a perfect substitute for my hoped-for pizza – and they told stories about Mt. Ugo (everyone was wearing a Mt. Ugu Annual Climb shirt). We got to know the village history, their way of life, and the people. It was a 'socials' with the friendly barangay officials, and they let us spend the night at the barangay hall.
The next day – today – the very accommodating brgy. captain, Kap. Tacio, drove us to Baguio City. So here we are now in the City of Pines and what do we do? After seeing Mt. Sto. Tomas and radars from Ugo, it seems inevitable that we'll try to visit this mountain. And with the whole day ahead of us, I'll sign off now and head off to Sto. Tomas. Cheers!