Hiking matters #256: Tagapo and Sembrano in one day – Part 1: Mt. Tagapo revisited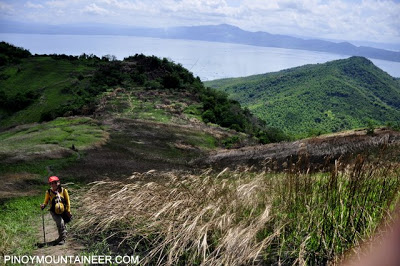 Mts. Tagapo and Sembrano are the two prominent mountains to your right if you are passing through SLEX on the way to Manila. These two peaks of Rizal share many characteristics, including similarities in their contours and trail environments. Last year, I did 'twin dayhikes' (i.e. two hikes in one day) of Talamitam & Batulao, as well as Maculot & Manabu Peak (HM#215 and 216). I have long wanted to find out if doing the same approach for Tagapo and Sembrano is possible.
The Tagapo-Sembrano Twin Dayhike is more challenging than the first two, because of the logistical difficulty of having to go to an island, climb a mountain, head back, and climb another mountain. The boat rides to Brgy. Janosa do not have a regular schedule. Moreover, even though they seem close to each other from SLEX, these two mountains of Rizal are actually quite far from one another. Is it doable? The only way to find out was to attempt it.
And so in April 21, 2012 I set out with my friends to do the twin dayhikes. We rented a van, which is actually cost-effective if you have a group of around 8-10 people — not to mention very convenient. I would recommend doing the same for people attempting twin dayhikes, or a long or far dayhike (such as Tarak Ridge, or Cristobal).
This is only my second time to do Mt. Tagapo — my first time up this mountain was way back in January 2007, which was when I began to take up hiking as a regular hobby. Back then, I hiked with my classmates; we saw dayhikes as a perfect way to detoxify the stresses of studying in medical school. I remembered Tagapo as an easy mountain, exposed to the sun but with beautiful views at the peak. It would be interesting to see how it looks like, five years hence.
We arrived at Binangonan Port at 0640H, too late to catch the first trip (which officially leaves at 0600H, but actually leaves at around 0620H). We had no choice but to charter a boat for P1200. We could not wait for the next trip, which officially leaves at 0830H…otherwise, our twin dayhike plan would have sank.
It took an hour for the boat to reach Brgy. Janosa. Kuya Archie, the popular guide of the mountain, was waiting for us. He led us to the barangay hall, where we registered for P20 each; we lost no time in heading up the mountain, starting the trek at 0830H.
It felt very hot throughout the trek, at times unbearably so. Unlike coastal peaks with similarly exposed trails, such as Gulugod Baboy, Talim Island does not receive a healthy dose of winds, and so there was no reprieve from the sun. Even so, I was encouraged by the sight of remarkable yellow and black birds; I have to consult Paula Peralejo what these beauties are. The trail is characterized by numerous bamboo groves.
The ascent was very gradual; the bamboo groves soon gave way to woodlands of light to moderate density. Finally, after around 80 minutes of trekking, we were at the grassland slopes of Mt. Tagapo, ten minutes short of the summit.
One final assault brought us up, and for the second time, I was at the highest point of Talim Island. It offers a unique, 360-degree view of various mountains, from Mt. Maculot to the peaks of Norzagaray, Bulacan and Rodriguez, Rizal and Mt. a. Of course, the usual 'barkada' of mountains like Makiling, Kalisungan and Atimla, and the Banahaw Trilogy were there; unfortunately the trilogy was covered with clouds. Finally, beckoning to us was Sembrano, which we planned to climb on the same day.
Since it was so hot, we just stayed for several minutes at the summit, and the proceeded to go down. Perhaps wanting to make the trip more worthwhile for us, Archie took us to an alternate route going down, passing by a well they simply refer to as 'balon', and taking a more gradual descent with the same bamboo grove environment.
Back at Brgy. Janosa, we treated ourselves to halo-halo and sago't gulaman. What makes these local treats so delicious? I think whenever we partake of them, we not only relish the delicious ube, gulaman, or minatamis na saging; we are also reminded of our childhood. And in a way, hiking itself is an a way a journey back to our youth when we could do everything, where we were yet untethered to the exigencies of life.