Hiking matters #257: Tagapo and Sembrano in one day – Part 2: Mt. Sembrano Revisited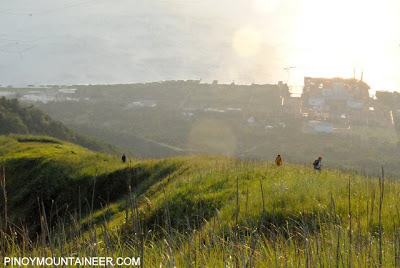 ANTIPOLO, RIZAL – After spending the morning hiking up Mt. Tagapo (see Hiking matters #126) and taking the pumpboat to and from Talim Island, we proceeded to Brgy. Malaya, Pililla, Rizal to do a late afternoon ascent of Mt. Sembrano. My first and last time in Sembrano was with the UP Med Outdoor Society way back in March 2007. My memories of the mountain were marred by the extreme heat on its exposed grassland slopes.
Since then, I have avoided the mountain, out of security concerns enunciated in a series of "Hiking advisories" that we have issued from 2009 onwards. Mt. Sembrano has gained notoriety for the numerous reports of theft and holdups that have taken place on its campsites and trails. One of my objectives in the trip was to see for myself what the present situation is.
From Binangonan to the the Brgy. Hall of Malaya, Pililla Rizal took less than an hour; we simply passed by the Manila East Road, and then turned right after the Flying V gas station past the town proper of Pililla. At the barangay hall where we paid P20 each, the tanods confidently asserted that it is now safe to hike up Sembrano, they dismissed the security concerns as slander even though they conceded that several incidents did happen in the past.