Hiking matters #324: It's Batulao time again!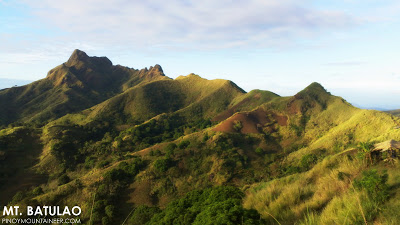 Mt. Batulao is one of my favorite dayhikes. The hike is scenic and is a great exercise. Its open slopes and windy peaks are my idea of 'freedom of the hills'; its rolling trails make for a good weekend workout. Moreover, it's always good to have a mountain (or two) you regularly hike as an index of your physical fitness. Finally, it is close to Tagaytay City where I love to foodtrip and hang out with friends, and if I'm up for it, it's also very close to Mt. Talamitam which can make for two dayhikes in one day.
See PinoyMountaineer's Twin Dayhikes itineraries
My latest visit to Mt. Batulao came at the heels of the Ugo-Pulag Traverse, thus far my biggest hike of the year. I was joined with some of my hiking friends: Mayan Gutierrez and her friends, Pastor Joe Bonifacio and Rica Peralejo together with their churchmates. I left Los Banos at around 0400H to rendezvous with them in Tagaytay at 0530H, then we convoyed to Evercrest.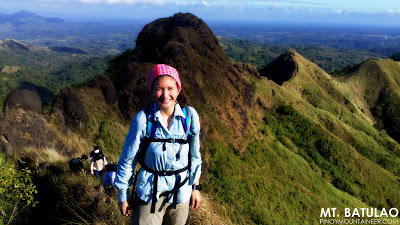 The technique in Mt. Batulao, if you want it as a dayhike, is to start really early in morning, or a bit late in the afternoon. That way, you avoid the noontime heat. Early in the morning, the weather in Batulao is Tagaytay-like and it go that way for the whole day but sometimes it can get very hot especially if there is no wind. I think it's fun to meet hikers along the trail, but unfortunately We started trekking at around 0730H.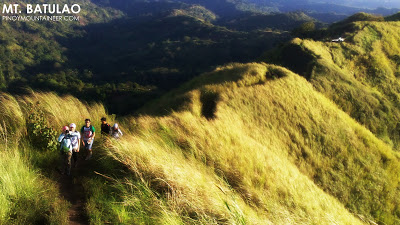 We passed by the New Trail and saw that our friend Janet Belarmino's hut has been destroyed by the elements. Locals were still starting to set up their stalls of buko juice and other refreshments; they were clearly expecting a big day ahead. We entered the woodlands past the New Trail campsite and reemerged to enjoy the narrow winding trails that characterize Batulao. By 0910H we were at the summit. Congratulations to the first timers who made it!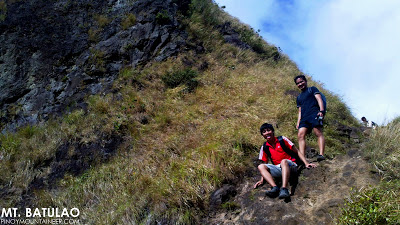 The descent, via the Old Trail, was made easier (especially for the first timers) by the ropes that are now in place in the steep sections immediately below the summit. The rest of the descent was routine. We had late lunch in Tagaytay. By 1700H I was back in Los Banos. Thanks to everyone who joined this fun hike, and greetings to those we met along the trail!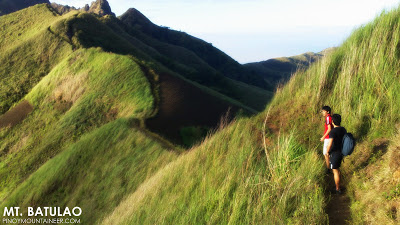 PS: You can also check out Rica's article about our hike in Manila Bulletin for another perspective.
THE BLOGGER'S CLIMBS IN MT. BATULAO