Mt. Tibig (563+) in Lobo, Batangas [CLOSED]
MT. TIBIG
Lobo, Batangas 
Jump-off point: Hulong Banalo, Lobo
LLA: 13°40′30.9′′N 121°9′37.2′′ E, 563 MASL
Days required / Hours to summit: 1 day / 1.5-2.5 hours
Specs: Minor climb, Difficulty 2/9, Trail class 1-3
Features: Scenic views of Verde Island Passage and Southern Batangas
Itinerary created: August 15, 2014
Last updated: October 10, 2016
Note: As of October 8, 2016, Mt. Tibig is closed to hiking activities. Please view this Mountain News article for more information.

BACKGROUND
Lying in the slopes of Mt. Banoi rises Mt. Tibig, a small but very scenic sub-mountain of the range that is an easy and refreshing hike in the town of Lobo, Batangas. Taking just one or two hours to climb, the mountain is comparable to Gulugod Baboy or Maculot in terms of difficulty, with a terrain that is highly reminiscent of Banoi itself or nearby Mt. Daguldol: agricultural woodlands, a bit of a forest, and then a grassy, ridge-like peak that faces the Verde Island Passage, just as Tarak Ridge faces Manila Bay.
The trail is surprisingly well-established from the trailhead to the summit, starting from a rough road in the village of Hulong Banalo. From this road, the initial part of the trial may feel steep but the brevity of the trail itself compensates for this trail gradient by allowing hikers to take their time. A nipa hut in Sitio Tibig serves as a landmark, past it, there is some more woodland that quickly gives way to a talahiban in the tradition of Kalisungan and Tagapo. One can see the connection to Mt. Banoi – a sloped northwesterly face that opens up the possibility of a traverse.
At the summit, the centrepiece of the views is Verde Island and the passage that bears its name. To its south lies Mindoro, including the chief of its mountains, Mt. Halcon. Then, to the north of the passage stands the other mountains west of Lobo: Pulot Itaas and Pinamucan, both of which little is known in terms of hiking, but is full of potential. Some rocky perches are scattered in the summit area, making for nice viewpoints. As in Tarak Ridge, the winds are coastal and refreshing. As a standalone dayhike, a relaxing overnighter, or part of a longer Lobo mountain trip, Mt. Tibig is a highly recommended mountain to climb in Southern Batangas.
ITINERARY


DAYHIKE


0300 Take bus to Batangas City
0500 ETA Balagtas, take two jeepney rides to Lobo, Batangas
0700 ETA Lobo, Batangas. Register at police station. Breakfast.
0800 Take tricycle to Hulong Banalo
0830 ETA Hulong Banalo; secure guides; prepare for the hike
0900 Start trekking
1015 ETA Nipa Hut (Sitio Tibig)
1100 ETA summit.
1200 Start descent
1300 Back at Hulong Banalo. Take trike back to Lobo poblacion
1400 ETA Lobo poblacion. Take jeepney back to Batangas City
1530 Back in Batangas City. Take bus back to Manila
1800 ETA Manila
PRACTICALITIES: MT. TIBIG
Transportation

Public (1) Bus, Cubao or Buendia to Batangas City [170 pesos; 2.5 hours]
(2) Jeep, Balagtas to Lobo Jeepney Terminal [20 pesos; 25 minutes]
(3) Jeep, Jeepney Terminal to Lobo poblacion [56 pesos; 1 hour]
(4) Tricycle, Lobo poblacion to Hulong Banalo [120 pesos/trip/3 persons; 30 minutes]Private Head out to Batangas City via SLEX-Star Tollway then take the road to Lobo, Batangas. From the poblacion, follow the coastal Lobo-Ilijan-Batangas City road then make a right turn at Banalo Elementary School and the follow through the rough road until you reach the last basketball court. Approximately 3.5 hours travel time.

Registration

(1) Logbook at Lobo police station
No fees are collected at the moment.

Available: Kuya Gabino (500 pesos for the dayhike)

 +639264916824 – Kuya Gabino

Campsites

The summit itself can serve as campsite

Water sources

None in normal course of trail

Cellphone signal

Absent at the jumpoff

Present from 300m upwards, sporadic at first

River crossings

Small stream near the trailhead, but nothing major

Roped segments

None

None

Minimal

Rattan

None

Hiking notes

This is a very new hiking destination so many changes may still happen in the itinerary and in the process of going up the mountain.

Sidetrips

Lobo beach; Mt. Tibig can itself be a side trip of a more substantial Lobo hiking trip alongside the peaks of the Lobo-San Juan Mountain Range (see more information in the

Mt. Tibig blog by Ramon Gayas, Jr.

)

Alternate trails

Yes (1.5-2.5 hours to summit; 60-45 minutes down)

900-1200
MT. TIBIG PICTURES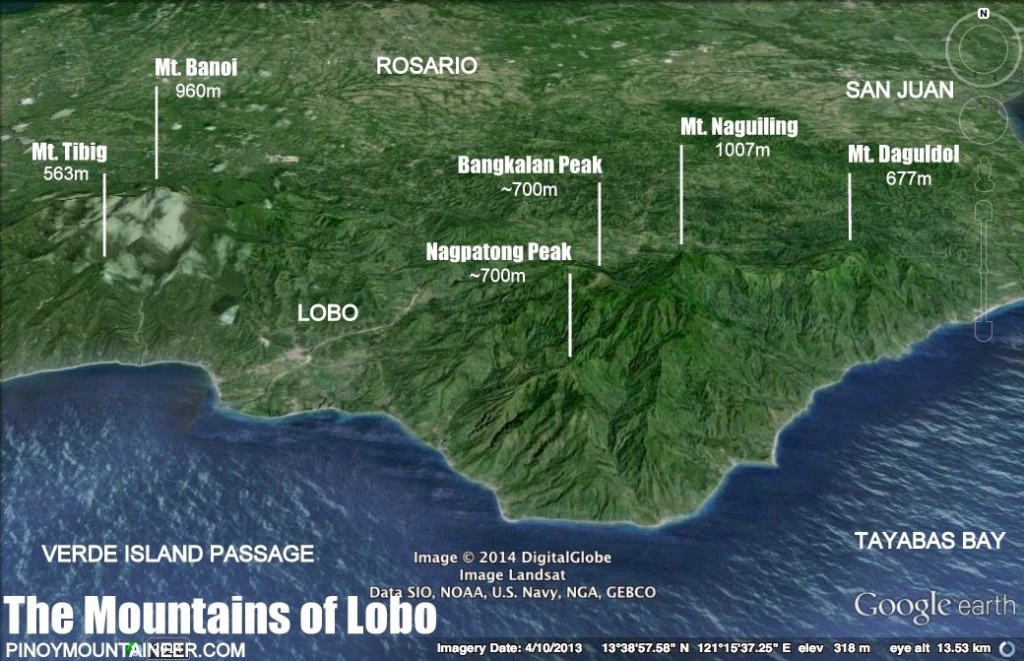 Illustrated map showing Mt. Tibig in relation to its parent mountain, Mt. Banoi
as well as the peaks of the Lobo-San Juan Mountain Range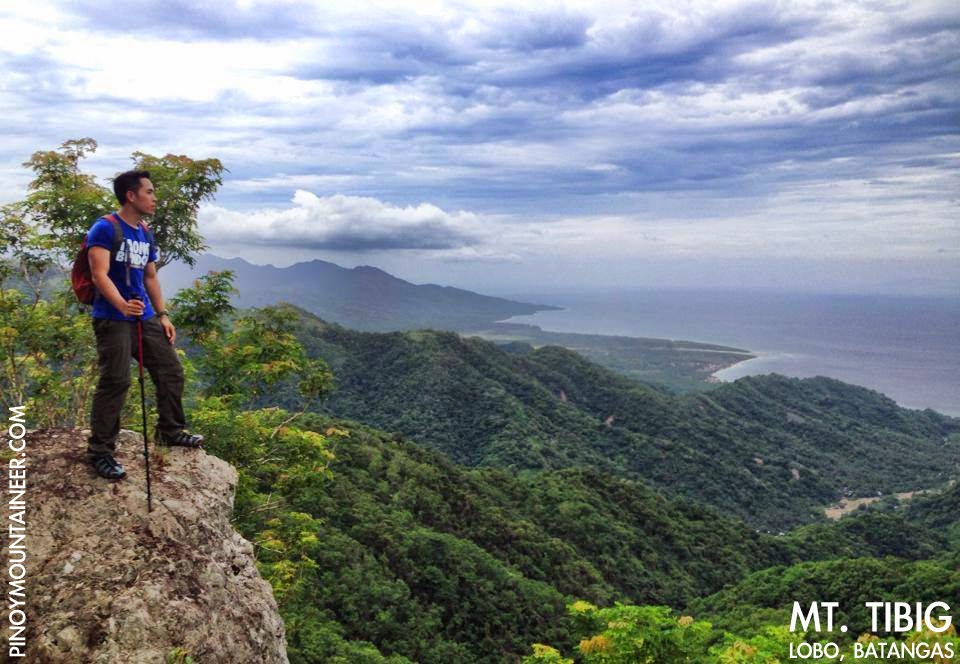 The blogger at the summit of Mt. Tibig with Lobo beach at the background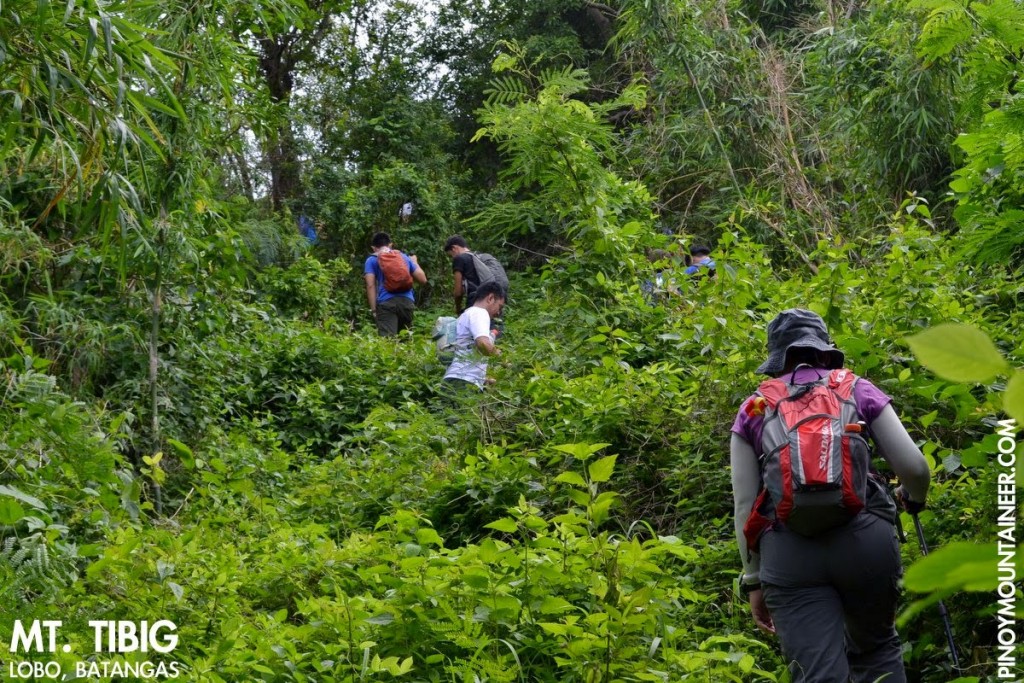 Inside the woodlands of Mt. Tibiig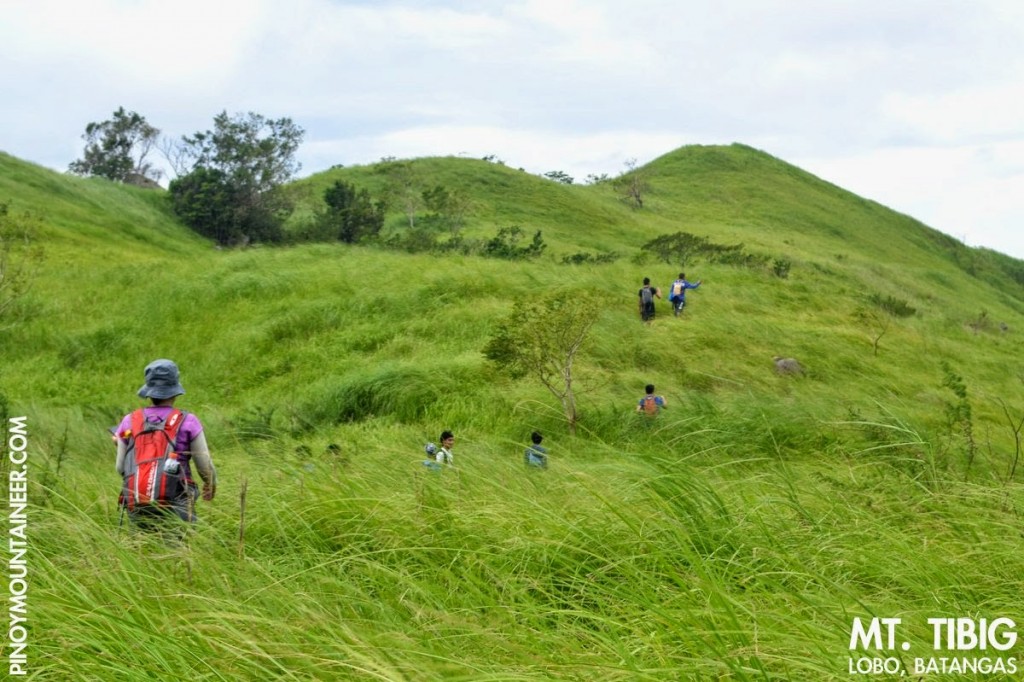 Approaching the summit through the grassy slopes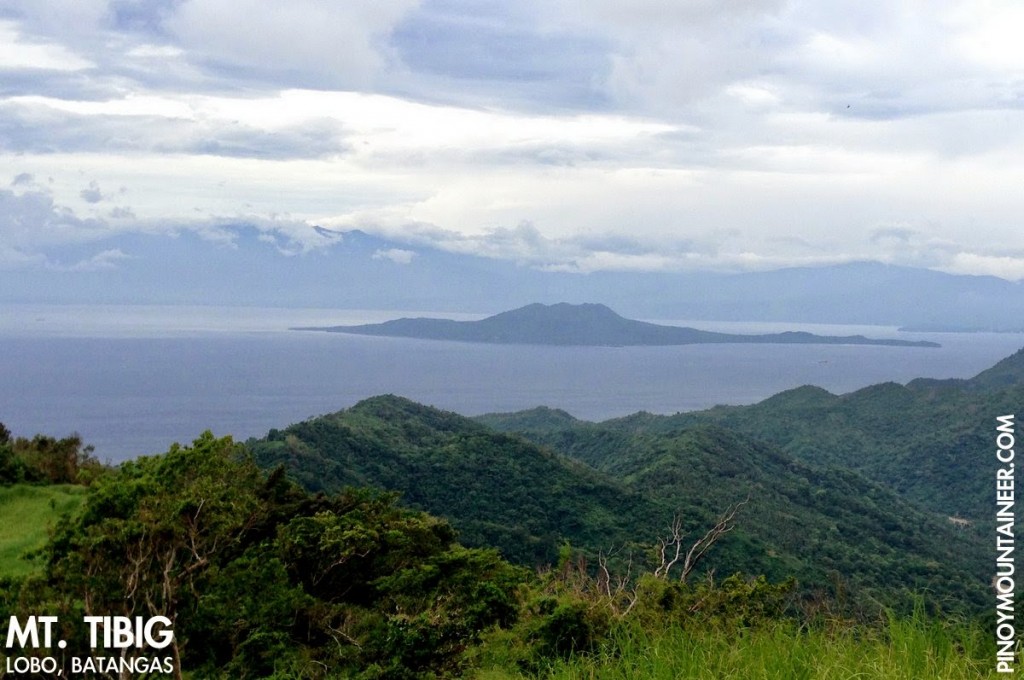 View of Verde Island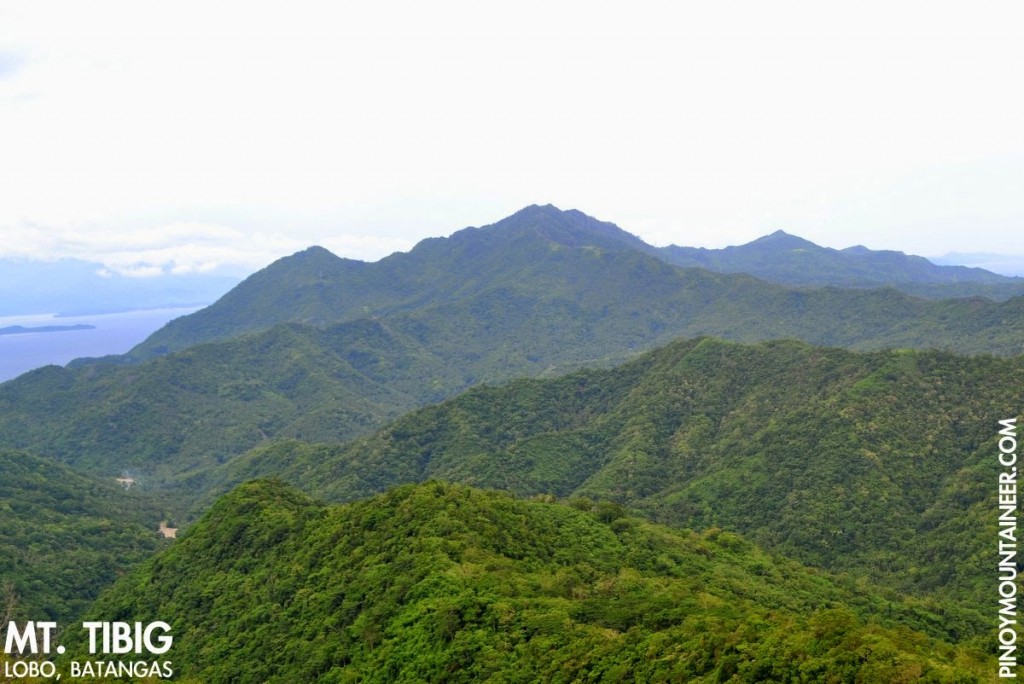 View of Mts. Pulot Itaas and Pinamucan – the two other major peaks of
the Lobo-Batangas City Mountain Range


 TRIVIA
The blogger's hike up Mt. Tibig on August 9, 2014 is narrated in Hiking matters #315.