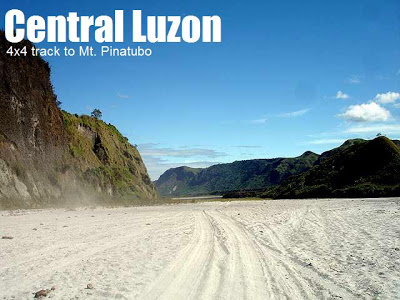 MOUNTAIN INDEX

Anawangin Cove: Zambales / 464m

Mt. Arayat via Arayat: Pampanga / 1008m

Mt. Arayat Traverse: Pampanga /1030m

Mt. Balingkilat: Zambales / 1100m

Mt. Balingkilat/Traverse to Anawangin Cove: Zambales / 1100m

Mt. Cinco Picos: Zambales / 881m

Mt. Cinco Picos/Traverse to Silanguin Cove: Zambales/ 881m
Mt. Damas
: Tarlac / 685m
Mt. Manalmon
: Bulacan / 196m
Mt. Natib
: Bataan / 1287m
Mt. Pinatubo
: Tarlac + Zambales / 960m
Mt. Samat
: Bataan / 553m
Mt. Tapulao
: Zambales / 2037m
Mt. Tapulao/Tarlac-Zambales Traverse
/ 2037m
Nagsasa Cove via Mt. Nagsasa
/ 450m
Pantingan Peak
: Bataan / 1300+m
Tarak Ridge
: Bataan / 1130m
BACKGROUND

A land of ricefields and vast plains, Central Luzon has only a few mountains but it has been literally shaped by mountain activity. In 1991, Mt. Pinatubo erupted, dramatically altering the environment. The once towering Pinatubo lost over 300 meters of elevation; and the plains were covered with volcanic ash. Economic and social implications aside, this eruption has created a beautiful outdoor destination – the very crater of Pinatubo, now considered to be the most beautiful trekking destination in Central Luzon. An emerging beach destination, which also has a trek, is Anawangin Cove in Zambales, and its white beach is likewise due to the eruption. Meanwhile, linked mythologically with Pinatubo is Mt. Arayat, a solitary figure rising in the plains as one passes by the North Luzon Expressway – the main highway to the north. The rest of the mountains in Central Luzon are actually in the western provinces of Zambales and Bataan, where, geologically, the meeting of two tectonic plates have given rise to mountains.
The distinctive flavor of these west mountains is its relative barrenness, not like the dense jungles of other mountains. Also, many are rocky, such as Tarak Ridge, a beautiful viewpoint overlooking Manila Bay; and Mt. Tapulao, which, aside from being the highest mountain in the region, is also a great source of chromite ore. Other notables include Mt. Natib in Bataan and Mt. Cinco Picos, overlooking Subic. Finally, we have Mt. Manalmon in Bulacan – the closest to Manila – which lies in the historic site of Biak-na-Bato, which figured prominently in the Philippine revolution in the 1890s.

MAPS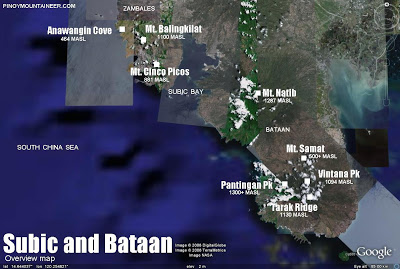 COVERAGE UPDATES

PinoyMountaineer needs to cover the Pantingan Peak and other destinations in Mt. Mariveles including the waterfalls. Speaking of waterfalls, Bataan is reported to have several nice ones as well. However, in the province of Zambales, there has been great interest in mountain climbing and from 2008-2009 we have featured new treks such as groundbreaking traverses of Mt. Tapulao, Balingkilat, and Cinco Picos.
MOUNTAINEERING CLUBS IN CENTRAL LUZON

Bataan Outdoor Club

Bulacan Mountaineering Club, Inc.

Dong-in Outdoor Society (Bataan)

Tarlac Mountaineering Club

Yabag Mountaineers (Zambales)
MOUNTAINEERING BLOGS


MikeB's site has detailed information on the mountains of Zambales and other hiking destinations.